Have you seen a shared post on Facebook saying that you can make easy money with a CashGem?
Are you wondering whether is it true or not?
I am glad you do your due diligence because this is the only way how to stay away from scams.
In this CashGem review, we are going to take a closer look at this system, more specifically we are going to check:
Who is behind
How Does it work (or does not)
Who is this for
Double-check the CashGem contact information
How long is this system around
and so on
Disclaimer
Please note, that I am not a member or an affiliate of CashGem.
This review is based on research and information available online in the public domain. Any recommendations and conclusions are only opinions and may not apply to all persons or situations.
CashGem Overview
Product Name: CashGem
Price to Join: $0
Creator: N/A
Rating: 0/10
Do I recommend it? No!
CashGem Summary
CashGem is a system that claims to be the #1 Cashing Network. A person who signs up will get $30. This is a false statement and it is not the only red flag.
This system claims to be here since 2015 – this is another lie since the domain was registered on 04/2020.
CashGem is just another scam that does not pay anyone.
It harvests personal data like an email address, password, telephone number, and credit card information.
My advice – Stay Away from CashGem!
Besides, generating revenue online requires an effort and it is more than just posting a referral (or affiliate) link.
If you want to learn more about real ways how to make money online click on the link below.
CashGem Review
CashGem is a new website where you supposedly can make money by inviting your friends to join this system and also by taking some surveys.
Apparently, for each person who joins CashGem through your link, you can earn $15.
That is a lot of money, considering that access to the CashGem is absolutely free to join.
The question is, where the money is coming from?
And you can even get a $30 bonus for signing up?
Right at the beginning, my guess is that this is a false statement. No system pays $30 just for signing up.
Let's go through the website CashGem.co to double-check the information.
Who Is Behind the CashGem?
When you are not sure about the system or website, you always want to check who is behind it, and who the creator is.
Usually, it should be in the "about us" section, and here is what it says: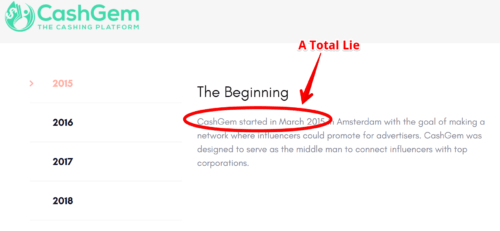 Now let's double-check this claim by finding out when the website was registered.
Simply go to whois.com and enter the domain name: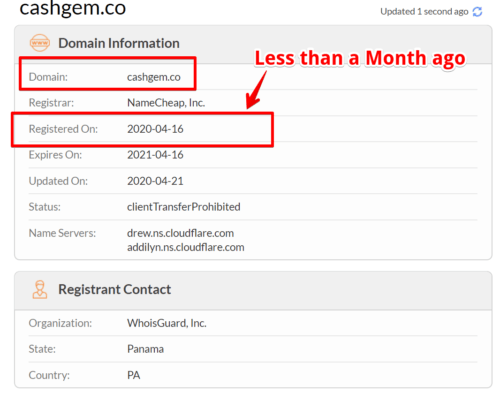 Something is not right with the CashGem.
They claim they started in 2015, but the website CashGem.co has been registered not even a month ago (as of this writing, May 12th, 2020).
The entire story is made up and can't be further from the truth.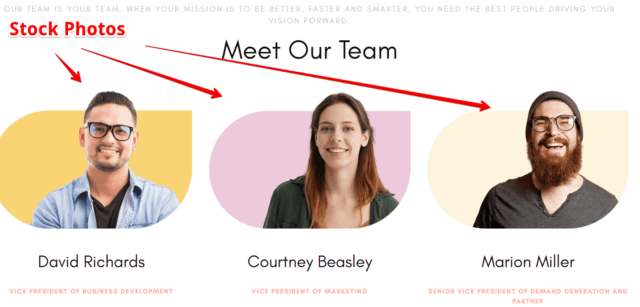 How about the CashGem team?
Are these guys real?
It does not take long to figure out that these are just stock photos and can be found all over the internet.
This "David Richards" guy – Is this the real name?
Or is he, Michael, Antonio, Rohan…
Also the Courtney.
Here is what you will find when you google that image:
And the last one is clear.
Marion Miller – you can purchase this photo as well, from Shutterstock.
We will see that even the "income proofs" they proudly share on their website must be fake.
How come the date says January 31, 2020?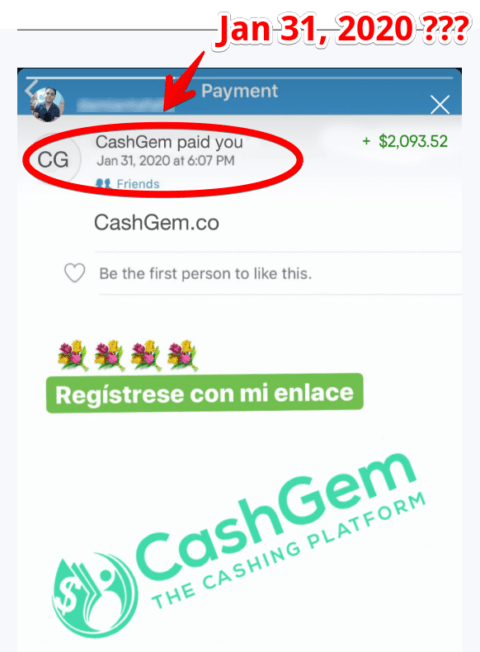 According to the information from the website whois.com and my research, I am sure the same people who are behind the CashGem are also behind other clones of the same scam as PaidLeaf, RewardDollars, NextCash, OGTask, and many others.
How to Contact CashGem?
Another way how to find out more about the system (whether it is a scam or not) is to get in touch with them by using the contact form or email.
I could not find any contact form on the website so I wrote them an email.
Usually, such a "successful" website should have an autoresponder, meaning you get an automated email within a minute or so.
Unfortunately, it is not the case and I have my doubts that they will ever receive my email. Most likely the email address does not exist or does not work.
Who is it For?
Anyone searching for ways how to make money online wants to try this.
The access is for free, in fact, you get a bonus and all you have to do, is to share your link and collect the money for your referral.
Doesn't it sound like a dream job?
Well, it does.
When something sounds too good to be tried, then it is.
If you want to know what a legit "get-paid-to" website looks like, you can check for example inboxdollars.com.
This is a review of this system and you can compare it with the CashGem.
Although you won't make a lot with inboxdollars, at least it is a legit system.
How much can you make?
A couple of bucks, maybe a hundred per month.
The truth about making real money online is, that you have to put an effort into it and it is not just a matter of sharing a link on social media.
Today, people just don't click on links and buy.
You have to explain to them what the product is about, what are the advantages and also disadvantages, so they are informed about the product in advance.
How Does the CashGem Work?
Whoever is behind the CashGem, wants to make it super easy to sign up. 
Join and you should be able to redeem your $30 bonus (I found this B.S.)
Share and Earn – Inside the dashboard, you find a special link that is unique for you. Share this link on Social media and when a person joins the

CashGem, you get $15 for every one of them. Again, this is a complete lie.

Get Paid – Apparently, you can withdraw your earnings using Cash App, PayPal, Bitcoin, or even mailed checks. This is the most "interesting" part – You can't cash out the earnings! There is no money.
As we know there are many clones of this system and people complain about not being paid.
This screenshot is taken from a PaidLeaf comment section.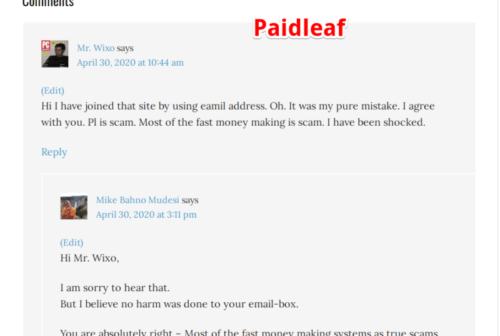 And here is another comment regarding the RewardDollars.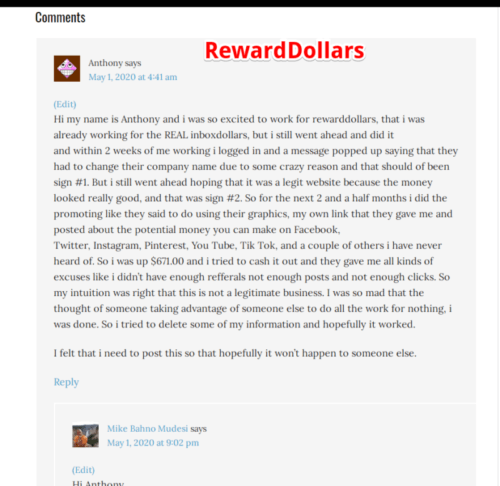 People sign up and in the end, they don't get paid, their accounts are locked and they end up being very annoyed.
CashGem is still a new website (not even a month old) so I assume there will be people who are not aware of this scammy system yet.
You better watch out.
If you still think that CashGem is a legit system and you can make some money with it, please get in touch with me using the comment section at the bottom of this post.
We need to talk…
What Does Work?
Briefly, I want to share with you how one can make money online.
First of all, there is not such a system that can pay you hundreds of dollars per day for taking some surveys or referring friends to a free-to-access system.
Yes, there are legit websites that can pay you for taking surveys and completing some tasks – but these systems pay maybe $40, maybe $80 per month ($200 max).
Here are some examples of these surveys sites, if you want to check them out:
www.inboxdollars.com
www.swagbucks.com
www.surveyjunkie.com
In case you want to find out how to make a consistent income online, I may disappoint you.
Does it mean, that it is not possible?
No, it is possible and actually is not that difficult,
What I mean by "disappoint"  – is you can't have that mindset of earning easy money online.
You have to put in an effort and be persistent if you want to make a couple of thousands per month.
Ideally, you can reach your first 4 figure month within 8 months. That is just a rough estimate, and it depends also on the niche you choose.
There is a platform where I have learned how to start making money online. To be honest, I used to think it was easier, but at the end of the day, it makes sense.
There are certain factors you have to keep in mind:
You can't make money without a website (or YouTube channel)
Both website and YT channel require traffic (people who consume the content)
After that, the traffic can be monetized
If you are serious about building an online business, you better invest in proper knowledge.
It does not mean, you have to invest your money right away.
The platform allows you to take a look at the training for free for 7 days. Only after that, you can decide to keep your starter account (which is for free) or to take full advantage of the course.
Back to the CashGem.
Let's Have a Look Inside the CashGem Members Area
The Dashboard looks pretty much the same as the dashboard of any other scam I have already reviewed.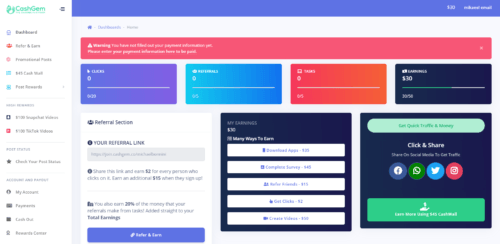 Some menu on the left, then in the middle you have a few notifications, your "referral link" and some B.S. statements, like your earnings, or the leader board with some fake income proofs.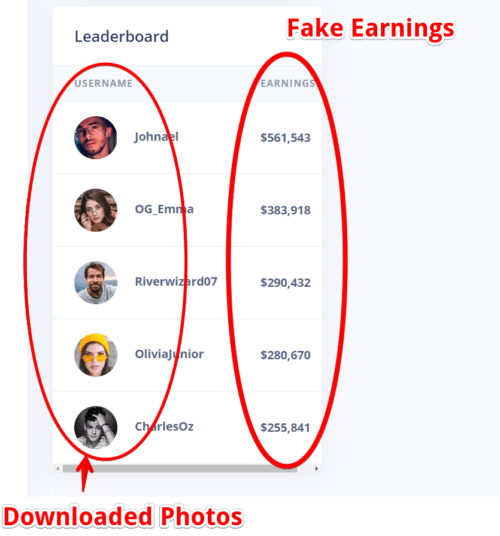 What is also absurd, is the statement about making $2 for each click…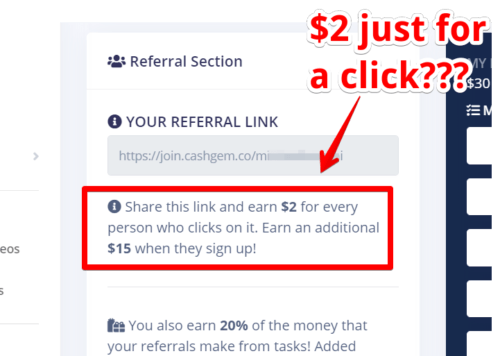 To be perfectly clear, when you try that, the earnings inside this dashboard will grow.
But once you are ready to cash out, your request will be set on hold.
After a certain time, you will be told that you can't get your money since you have used fake clicks, and fake referrals.
Most likely they will close your account.
The Claims vs Facts or List of Red Flags
I believe you have seen enough.
Enough to be sure that CashGem is just one of many scams out there.
Let's briefly sum up the red flags.
1) Age of the system
We don't have to spend much time on this.
I think it is clear that the information about CashGem being here since 2015 is a lie.
In case you want to know how to check the domain registration date, here is a short video:
2) Fake Payment Proofs
We have seen already one.
Let me just share with you another fake payment proof:
Most of the screenshots they use do not have the date, but I believe these examples are sufficient to prove that these proofs are fake.
3) No One Gets Paid
I have explained how it works when a person wants to cash the earnings out.
This point alone proves that CashGem is a scam.
4) Contact information – Not working
They don't have a contact form.
The email address does not work and the "company" address shows some residential areas in Amsterdam.
As for the Social media icons – they don't work either.
When you click on them, you just get to the top of the page.
5) Fake Testimonials
All YouTube videos are uploaded on the same day and they are part of the CashGem YouTube channel.
That does not seem right.
6) Fake Team
All the images they use are stock photos, downloaded from websites like Shutterstock, or other similar providers.
What I like

Absolutely nothing
My Advice: Stay Away from the CashGem!
What I don't like

Fake Testimonials
Fake Team
Registered in 04/2020 and not in 2015
Payment proofs – fake screenshots
Does not pay
Email does not work
Conclusion
CashGem is a scam.
You won't lose money right away, but if you sign up with your email address, the chances are high that your inbox will be flooded with spam and phishing emails.
If you happened to sign up for this system, please do change at least your password.
This is not the only scam of its kind. Please check this link, to see that there are many of them, and they all work the same way.
Once you go through 2 or 3 of them you will be able to recognize a new one as well.
I am sure there will be more of them, but by now you know how to spot them.
If you want to know what it takes to make a consistent income, I have a link at the bottom where you can learn more.
Do you have any questions?
Or would you like to share your experience with a similar system?
Please do so, and use the comment section below.