Hello and welcome to my CashChase Review.
You are wondering whether you can make some fast and easy money using this system?
Well, I am sorry to disappoint you but there is not such a thing as easy money or quick money. You may have already heard the term "get-rich-quick-scheme", right? We all would be rich if there is such a thing.
Maybe CashChase does not promise you to get rich quick, but you won't get those promised $500 today either.
You won't get a dime out of this system and we are going to explain why.
I would like to mention that this is not the first website offering such easy money.
There are many, almost the same systems, just like CashChase.
We will go over the website and step-by-step you will learn how to spot such scams and why is better to stay away from them.
Disclaimer
Please note, I am not a member or an affiliate for CashChase. This review is based on research and information available online in the public domain. Any recommendation and conclusions are only opinions and may not apply to all persons or situations.
CashChase Overview
Product Name: CashChase
Price to Join: $0
Creator: N/A
Rating: 0/10
Do I recommend it? No Way!
CashChase Summary
This is a website where after signing up, you supposed to earn money by simply referring people to CashChase and performing some simple tasks. According to their homepage, you can earn up to $500 a day!
The problem is that CashChase is full of red flags, including fake testimonials, fake claims regarding the earnings and others (date of registration, contact information, etc).
When a member wants to withdraw the credit, the request is simply denied by CashChase reasoning that he or she has used fake referrals and fake clicks. As a result of that, the account is closed.
CashChase is only one of many similar scams out there, including PaidLeaf, Tap2Earn, Social Bounty, Rain Money, etc.
It is highly recommended to stay away from CashChase (and other similar systems). They go after your data including email password and so on.
What is CashChase
CashChase is a website where you can perform simple tasks and earn from $10 to $50. It supposed to be kind of a Get-Paid-To (GTP site) where you can earn by sharing the link, surfing the internet and easy stuff like that.
Such websites do exist, but you can earn $100 to $200 a month, maximum.
So how come the CashChase promises you to make $500 in a day?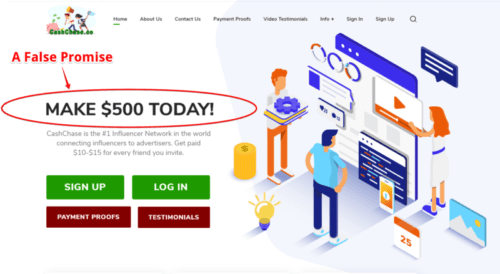 Well, that is just a promise.
How Does It Work?
The whole system is very easy to comprehend.
This is how you can get started according to CashChase:
You sign up for CashChase and immediately you get a $25 bonus.
You grab your unique link and start to share it on social media to get referrals. For each referral, you get $10.
You can withdraw your earnings through PayPal, Bitcoin, CashChase or a Check.
I don't know about you, but this is the same system as Tap2Earn (Check out their website – it is almost identical).
Here are other systems that operate the same way (Join, Share, Cash Out): Notion Cash, Referral Pay, or Social Bounty.
Some of them may have a slightly different website, but the layout and principle remain the same.
The Dashboard for all of them is the same, just the color is different.
Once you sign up you are provided with your unique link in this pop-up window.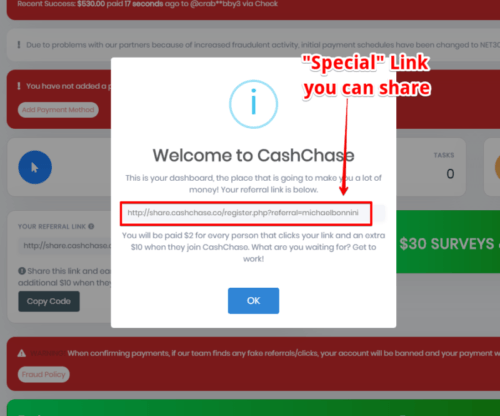 This is the link that you should share.
And here is how the CashChase Dash Board looks like.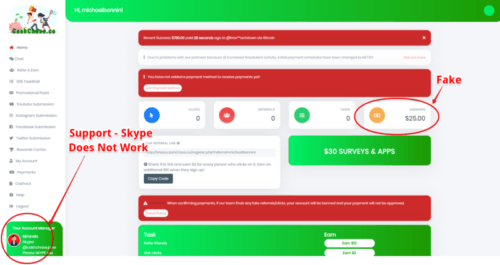 At the dashboard, you see some notification about other members' earnings (which is a forgery) as well as you earning a $25 bonus, which is also fake. On the left-hand side, there is a menu where you can access different social media.
The same thing is at the bottom of the dashboard.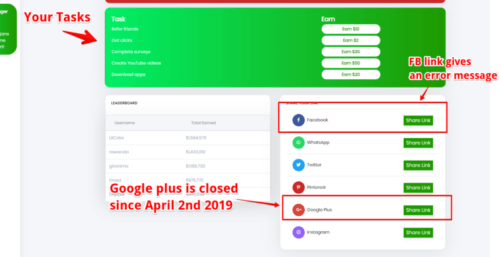 There are a couple of interesting things to see.
First of all the link to google plus. Google plus has been closed in April 2019. So why would they use it here? As we are about to find out, CashChase has been launched in December 2019, which is 8 months after Google+ was closed down. It does not make any sense
Second – The link to the Facebook page gives me an error message. Here is the screenshot of the message:
I am glad that people already reported the links as abusive.
The thing is that many newbies or beginners are not aware of this scam and they just share the link all over the social media. At first sight, it looks like the system works. The credit grows, but they don't know yet that is just an illusion. An amount, that is impossible to withdraw.
Why?
The intention of this entire website is only to harvest your data. In the best case just your email and password, in worse cases your telephone number, PayPal information, and in some cases also credit card information.
Those are required when some of the tasks are performed.
And what happens when you request a Cashout?
Your request will be on hold, with a scheduled payment date. That could be 14 days from the given request.
Then, it will be denied and you are accused of using a fake click and/or fake referrals. After that, your account is closed/banned and you can't log in back anymore.
Now let's go back to the CashChase website and check who is behind this scam.
Who Is Behind
This is a question you should be always asking before joining any digital product or system. Even though it is for free as CashChase is.
When you spot that something does not make sense (suspicious testimonials, the age of a website or fake email address) do not sign up for it.
We will cover also other red flags but let's take a look who is supposedly behind the CashChase.
According to the About Us page, the CashChase started in March 2015 in Amsterdam.
This can't be true. We can check the age of the website CashChase.co. It would make sense if the registration date is around March 2015, right?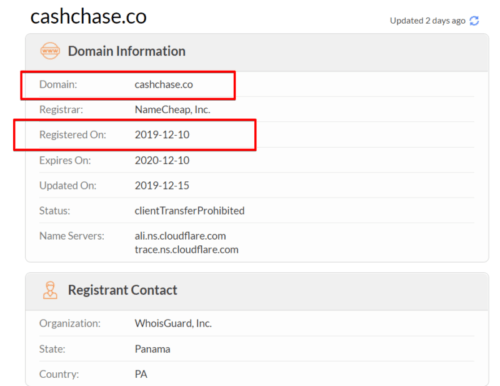 It is not the case.
The CashChase.co has been registered only at the end of 2019.
This is common for the sister's website as well.
And here is the proof that the CashChase is connected to the Tap2Earn. The link refers to the LinkedIn, Tap2Earn profile.
When guys behind the CashChase were setting up the page, they forget to link it to the correct LinkedIn profile
Whoever is behind the CashChase it is obvious that he is behind the other systems including Tap2Eearn, Social Bounty or CloutBucks (BTW the CloutBucks website does not work anymore).
The Claims vs Facts
1) CashChase Launch Date
The CashChase claims to be around since 2015. Since their business relies on the internet and its website, we assume that even the website should be about the same age.
But we have seen that their website CashChase.co was registered in December 2019.
This is a big red flag and this fact alone is a reason to leave the system and never come back.
2) Contact Information
It is impossible to get in touch with CashChase representative
First of all the contact form at the website does not work.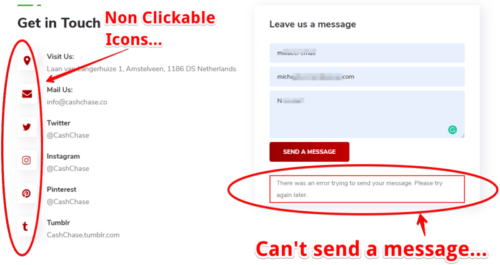 So I have decided to write an email, but there is no answer either.
I would expect that they have at least an autoresponder to give you feedback that your message is acknowledged.
Nothing of the sort.
Second, the postal address is wrong
Today it is very easy to double-check the postal address.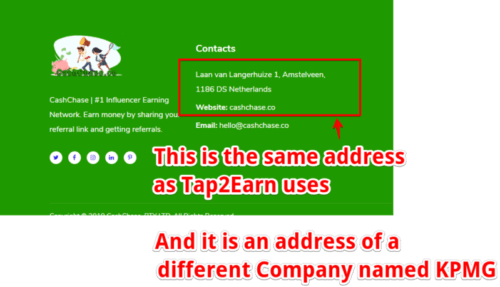 When we google the street in the Netherlands, we learn that this is a different company's address called KPMG.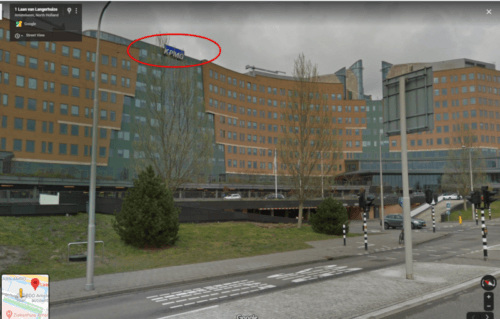 This is a huge audit company and I doubt that there is a CashChase office somewhere in the building.
And there is another connection with Tap2Earn Again:
They use the same address.
Coincidence? No ways.
It is just a copied and re-hashed system.
3) Fake Testimonials
When a system has to use fake testimonials it means only one thing – The entire system is fake.
Not mentioning the false claim, at least in 2 cases below.
When we google the image that supposed to belong to Allisa, we get a lot of results.
Most of them are other versions of CashChase or Type2earn.
Some of these websites are considered a potential threat already.
For example, when I want to go to the last one (stackpay.org) I get the following message:
Since I have reviewed almost a dozen of these websites, it does not surprise me anymore.
4) Fake Payment Proofs
It does not take much to check the payment proofs. They are not very clear images, but the date is readable on some of them.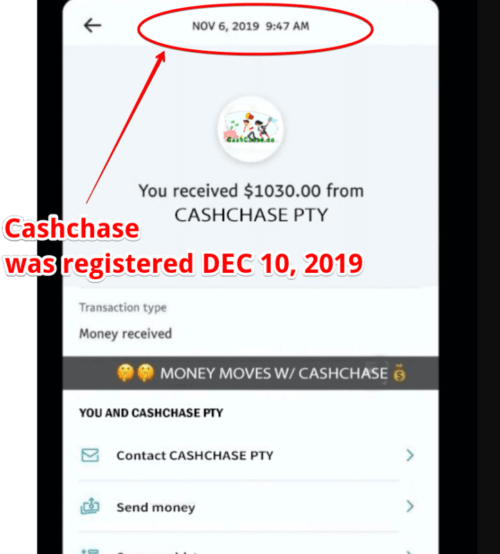 And another example of fake payment proof.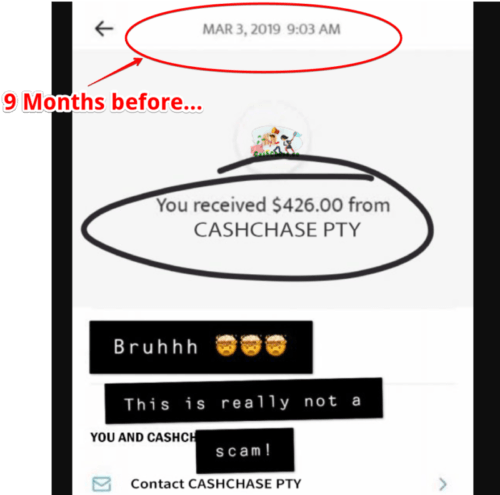 These proofs only prove one thing – they are fake!
5) Term and Conditions
Nobody reads terms and conditions, or at least most people do not read it, including me.
In this case, though, I just skimmed through their T&C, because I was expecting some error, or maybe a sentence referring to one of the older systems.
But honestly, I was not expecting this: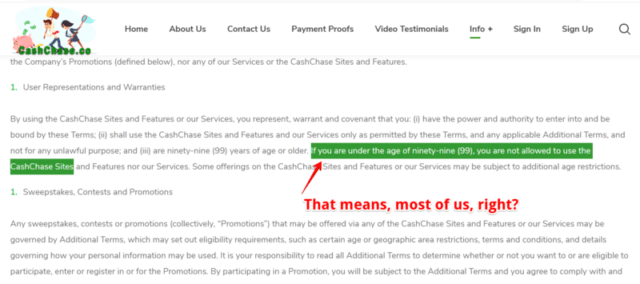 Let me repeat that:
"If you are under the age of ninety-nine (99), you are not allowed to use the CashChase Site"
Are they serious about that point, or is it a mistake?
Well, I honestly have no clue.
But based on the previous reviews I did, I think it is there on purpose.
Hardly a 99-year-old person goes to this system and tries to make some bucks.
With that being said, according to this sentence CashChase has a right to deny all the cashout requests.
But this should be clearly stated in the beginning.
I believe it is something that FTC would want to look at.
The bottom line is – they don't pay and they have many more websites like these.
I have found one, which is a German version: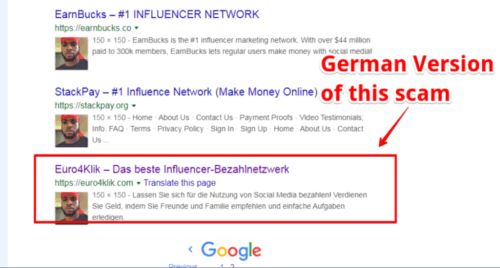 This short video shows you how to report a scam:
What I like

I don't like anything about the CashChase. This is an outright scam and that's it.
What I don't like

Owners are not known
Fake Testimonials
Fake payment proofs
Fake contact information (including postal address and email address)
This system does no payout
Most likely a phishing scam
Is There a Legit Way How To Make Money Online? – How About Affiliate Marketing
It is important to realize that there is not a magic button or an easy system when it comes to earning money online.
I know many courses and gurus are teaching how to make money online. Many courses are very misleading and offer very little information.
On the other hand, there are also high ticker courses offering 4 or 6 weeks training, but they cost $1,000, in many cases even several thousands of dollars. But these courses, especially listed on ClickBank charge that much just to look legit.
The course itself is not worth that much.
Regardless of the training one thing is essential when it comes to affiliate marketing.
You need a website.
Once you have a website you can choose what direction you want to go to.
Affiliate marketing is a business model where you get paid for selling products from other companies. It is a commission-based business model.
Let's take an example – Amazon.
Choose your favorite category within Amazon.
There are many sub-categories and we can call these niches.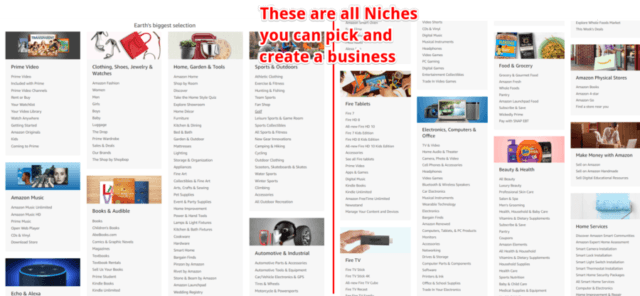 Here is the link to Amazon where you can take a look at the categories as per the screenshot above.
The affiliate business model works like this:
Pick a niche
Build a Website
Attract Visitors
Earn Revenue
These are the elementary steps of affiliate marketing.
I admit that not many people are willing to start as an affiliate marketer. The reason is, it may take a bit longer until the first results, but at the end of the day, the effort is worth it.
And by longer, I mean something from 6 to 14 months, in some niches also longer.
You must realize that you build a business. You need to attract people to come to your website. That takes time and effort.
I know I had to get rid of the get-money-fast mindset.
That never works, and if someone believes so, he will be always chasing new ideas. A year, maybe to passes and he got nothing.
Therefore it is better to get the acts together and start working on the website and content.
I realized that with good affiliate training I can achieve my goals faster.
I know people who got their 1st sale in 3 months. Half a year later they were making $2,000 to $4,000 a month.
But that takes an effort and persistence.
But here is good news.
You will choose a category, you like – so for you, it may be even fun building up a website within a category where you are passionate about. (the technical stuff can be easily learned).
That is the beauty of affiliate marketing.
You choose what you are working on when you are working and you are not fixed to one geographical location only (as soon as there is an internet connection).
If you are interested in this business model and you want to find out more, check this article out. Here is the link to the affiliate marketing course I mentioned.
It has all the tools I need to build a website and generate income.
Just for fun I also want to show you what is the difference between legit platform and system that does NOT work:
CashChase offers free access, but with all the red flags we have gone through I can't rank it higher than zero (0).
Final Verdict
CashChase is an outright scam.
If you happened to sign up for this system, hopefully, you did not use your standard email address (and password). If you did, please change the password to your email account.
That is the bare minimum you can do to protect your data.
It is quite possible that people behind the CashChase collect email addresses and then sell them to the 3rt party.
Now the question is, how many such scams are still out there?
The good news is, that they look pretty much the same.
You can always get back to review like this and compare the red flags with a system that looks suspicious to you.
I hope you have found some value in this review,
If you have any questions, or you would like to share your experience with CashChase, please do so in the comment section below.
At the bottom I leave a link for you to check to how the real platform looks like:
Would You Like to Start Your Own Affiliate Business?
I have been a member of Wealthy Affiliate since late 2017 without a prior marketing experience.
Beginning of 2018 I have learned how to build a website that drives traffic and makes sales.
Since the summer of 2019, I am a full-time internet marketer and I work from anywhere I want, whenever I want.
Training within Wealthy Affiliate teaches what works – There is an evergreen procedure and you can learn how to start making money online as well.
Join Wealthy Affiliate for Free – You don't need the credit card.