You may also like:
I have noticed that there is a lot of hype regarding companies dealing with cryptocurrencies, promising large ROIs.
A lot of these companies operate as Ponzi schemes – their members contact you on social media and promise you high returns.
BFF Global Network, also known as BFF Crowdfunding, seems like another one of those.
Apparently, the potential return on investment is 300% – and that's without the recruiting part.
Is it even possible?
Let's go through the company quickly and let me show you what you should be careful about.
Jump to:
This review serves as a guide to assess online money-making platforms.
If you encounter a platform and want more information, you can either search for a review on my website or leave a comment, and I'll aim to give feedback within 24 hours.
Disclaimer
Please note, that I am not a member or an affiliate of BFF Global Network.
This review is based on research and online information in the public domain.
Any recommendations and conclusions are only opinions and may not apply to all persons or situations.
BFF Global Network Summary
Name: BFF Global Network / Also known as BFF Crowdfunding
Website: www.bffcrowdfunding.com
Price to Join: 0$, (to invest a minimum of $125 is required)
Recommended: No!
BFF Global Network promises to help individuals achieve financial freedom through a unique crowdfunding cycler that can potentially turn modest investments into substantial returns, all without the need for recruiting others.
However, concerns have been raised about the platform's transparency and sustainability.
If you've been approached by someone unfamiliar, offering you huge earning potential by joining BFF Global Network, be very cautious.
My personal advice would be to avoid such "get-rich-quick" crypto investment offers and stay away from them.
In case you're looking for a legitimate platform that offers both investment opportunities and education, you might want to consider Forex Signals.
They even have a free trial so you can explore their services risk-free.

What is BFF Global Network?
BFF Global Network, often referred to as BFF Crowdfunding, positions itself as an inventive crowdfunding platform in its early stages of global expansion.
The platform, founded by entrepreneur Mike Taylor, is in its pre-launch phase, providing a promising opportunity for initial investors.
BFF Global Network offers a platform for individuals to invest in a system that rewards based on filled matrix positions, allowing them to progress through different investment tiers for substantial returns.
BFF Crowdfunding Website Information
The website has almost no organic traffic.
This is most likely due to the fact that people are coming to the website from social media, and 1/3 of them are coming from referrals.
BFF Crowdfunding Website Registration Date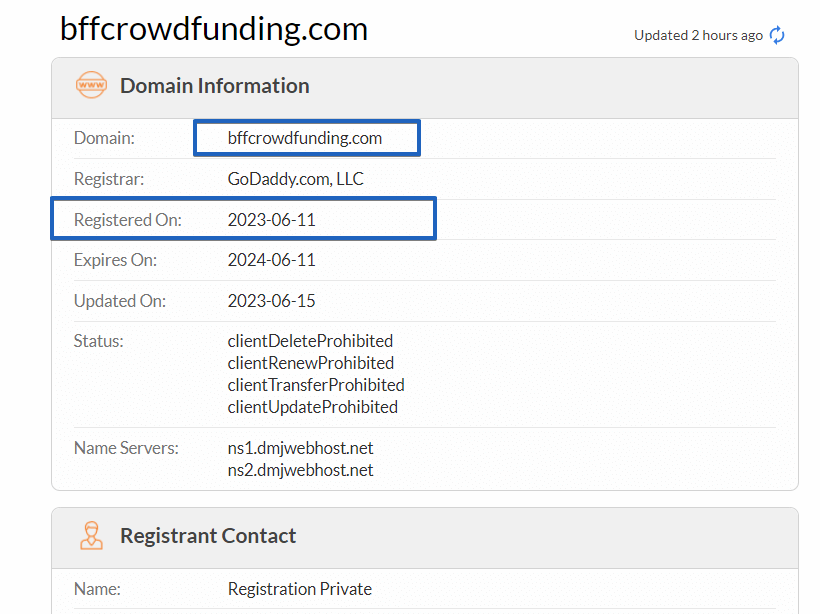 The website was registered in the summer of 2023.
However, there's a discrepancy with the date at the footer of the website, which states "2007 – 2023."
I am particularly cautious when it comes to websites offering high returns, and this small detail raises a red flag for me. In other words, I would not trust such a site.
It seems like they are trying to appear as if they have years of experience, but in reality, their expertise might be more aligned with devising schemes to scam others.
Who is behind the BFF Global Network?

The platform was founded by Mike Taylor, a Texas resident, who has a history of promoting other financial schemes.
His previous ventures include Gobe Tradehouse, GOBE Copycat, Tradera, and Forsage, some of which have either collapsed or faced legal action.
One might argue that Mike has years of experience in this field, and while I want to remain positive, it raises questions as to why he would continually change platforms if one were profitable for both the members and him.
In other words, if a platform were successful, there would be no need for him to keep changing them, unless he needs to collect the money, shut it down, and move to the next one…
What Products does BFF Global Network offer?
BFF Global Network does not have any retailable products or services.
Affiliates can only market the BFF Crowdfunding affiliate membership itself.
However, they claim to offer an affiliate marketing course and credit repair training course.
How to Join the BFF Global Network?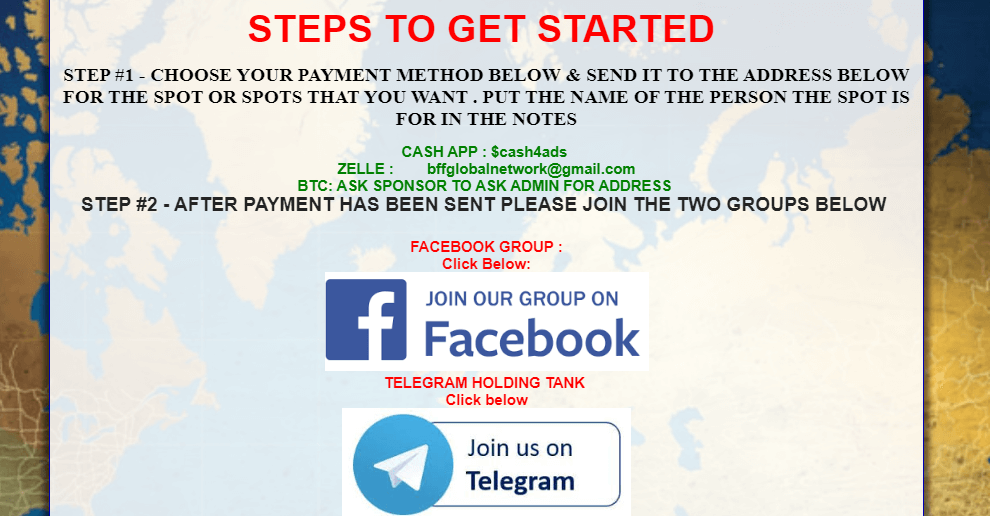 According to their website, bffcrowdfunding com, there are 5 steps to get started:
Payment
Choose your desired payment method and send the payment to the provided address for the spot(s) you want. Make sure to include the name of the person the spot is for in the notes.
Join Groups
After payment, join the two specified groups – one on Facebook and another on Telegram.
Wait for Welcome
Allow up to 12 hours to be welcomed into the paid members' Telegram group and the Facebook group.
Need Help?
If you need assistance, contact your sponsor or reach out to BFF Global Network at their provided email address.
Get Referral Link
After logging in, click on "Your Pre-Launch URL" on the left side of the menu, and copy that link. It's your personal referral link if you wish to refer others.
That was the "easy" part.
Now, they ask you for the money.
To become a part of BFF Global Network, individuals must invest in one of three available tiers: $125, $250, or $500.
How to Make Money with BFF Global Network?
| Initial Investment | Potential Returns |
| --- | --- |
| $125 | $500 (recurring) |
| $250 | $1,000 |
| $500 | $2,000 |
Upon making an investment, they are positioned at the top of a 2×3 matrix.
This matrix structure is a part of the cycler system, where investors can ascend through different investment tiers as positions within their matrix get filled.
To explain further, the 2×3 matrix works as follows:
When you join, you are placed at the top of the matrix, which has two positions directly beneath you. These two positions make up the first level of the matrix.
Each of these first two positions is further split into another two positions, creating four positions in total. These four positions make up the second level of the matrix.
Level three of the matrix is generated similarly and consists of eight positions.
In this matrix:
You are at the top.
A and B are your two direct referrals, forming the first level of the matrix.
C, D, E, and F are the referrals from A and B, making up the second level of the matrix.
G, H, I, J, K, L, M, and N are the referrals from C, D, E, and F, constituting the third level of the matrix.
The goal is to fill all positions in the matrix.
As positions get filled by new and existing BFF Global Network affiliates who also purchase cycler positions, you progress in the cycler and potentially earn returns on your investment.
Investors can make money through the cycler system by moving up the investment tiers and earning returns on their investments.
Additionally, they can earn referral commissions by recruiting others to join the platform.
BFF Global Network Red Flags
Lack of Transparency
The company does not provide clear ownership or executive information on its website.
Mike Taylor – History of the Founder
Mike Taylor, the founder, has a history of promoting other financial schemes that either collapsed or faced legal action.
Ponzi-like Business Model
The company operates on a cycler system, which is often associated with Ponzi schemes.
Lack of Responsiveness
The company does not respond to messages, whether they are submitted through the contact form on their website or sent directly via email.
No Retailable Products or Services
The company does not offer any products or services that can be sold to customers; affiliates can only market the membership itself.
Promises of High Returns
The company promises substantial returns on investments, which may be too good to be true and unsustainable in the long run.
Reliance on Recruitment
The company's compensation plan relies heavily on recruiting new members, which is a common characteristic of pyramid schemes.
Frequent Platform Changes
The founder has a history of frequently changing platforms, which raises questions about the sustainability of the current venture.
Conclusion
BFF Global Network, also known as BFF Crowdfunding, markets itself as a promising platform for financial success. However, there are substantial concerns about the legitimacy and long-term viability of the company.
A lack of clear ownership information, a business model reminiscent of Ponzi schemes, and a history of involvement in problematic ventures by the founder are all red flags.
It is advised that potential investors exercise caution and engage in comprehensive research prior to making any investment choices.
If you're looking for a more secure and proven way to invest, consider exploring legitimate platforms like Forex Signals. It's always a good idea to diversify your investment portfolio and align yourself with well-established and transparent entities.
Curious to know more?
Take a look and make an informed decision!
If you have questions or have had experiences with similar platforms, please share your thoughts in the comments section below.
Thanks for reading,
Mike.