Who does not know Amazon? Amazon is one of the TOP 10 Retailers in the world. Amazon got so large also because of the partners he connects with. That is due to the affiliate program where almost everyone can join and make a profit. You can partner up with Amazon as an individual, create a website and make a commission out of every sale the visitor makes.
Then you have also digital products which promise you that they know how to make money with Amazon. One such product is called AZ Sniper which claims that you can make passive income with Amazon.
It sounds perfect, right?
You buy the digital product, you set up a site, few more clicks and you are ready to earn the passive income.
Wrong!
There is no such thing as an automated process that allows you to create passive income. Well, then a question is:
What is AZ Sniper?
First of all, this is a "cheap" (ClickBank) ClickBetter product that promises you to make thousands of dollars a day. We will be looking at their sales video then red flags, the price structure and eventually we check out the membership area as well.
Name: AZ Sniper
Website: www.azsniper.com
Price: Advertised Price $37 (Downsell to $27) + Upsells
Owners: Stephen Ford (identification not confirmed)
AZ Sniper Review – The Product Overview
I would like to start with my comments on the sales video of the AZ Sniper system. Right in the 4th second of the video I see a red flag saying that you can make up to $1,500 a day.
To be honest though – I think it is possible to make more than $1,000 a day but companies or individuals with such income have worked hard to get there. And it was not overnight. In order to have such income, you have to have quite decent traffic to your website (probably millions of visitors per month). That is just to give you an idea of what the income of $1,500 a day may look like.
They continue with throwing at you some screenshots of profits where it says "$47,286.14 in 30 days". Well, I get it. They want to impress you.
These claims are backed up by testimonials. These guys are just paid actors, and they can be hired on a website called Fiverr.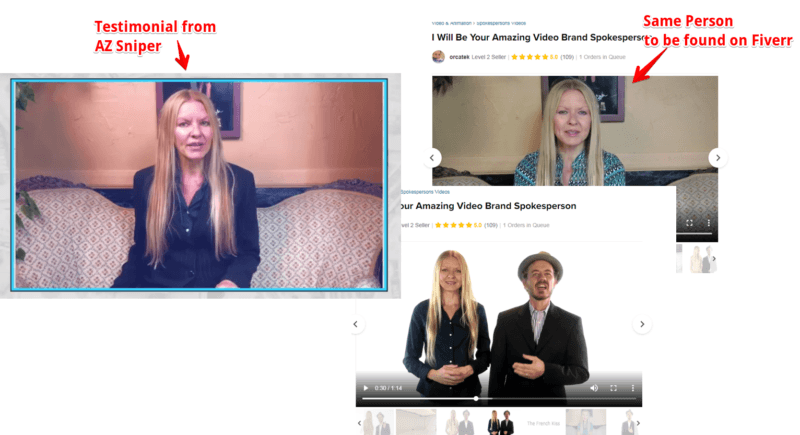 You can have a look at this lady on Fiverr. It is not difficult to hire such a person. Many ClickBank or ClickBetter products do hire these actors. Just another example is Secret Online Goldmine.
Besides the fake testimonials, I do believe that the owner Stephen Ford is just a made-up person.
Nevertheless, this product is about how to become an affiliate with Amazon.
Yes, it is true that you can start to make money with Amazon. Many people do that. But they have worked hard and it has taken them several months until they got results.
If you are interested in how to become a partner with Amazon I suggest you read this quick guideline.
Back to the AZ Sniper. AZ Sniper is allegedly an efficient beginner-friendly tool for making money with Amazon. You can make up to "$10,000 per week from an automatic profit system"
Amazon has a commission structure where he pays about 4-8% per sale. So in order to earn $1,000 you need to have either many sales or you have to focus on expensive items. And the more expensive item is, the fewer sales are made per day (or any certain period of time).
I am not saying that it is not possible to earn thousands of dollars per month. It needs time and you need to drive traffic to your site.
You can build a great website and get to the 1st page of google and/or other search engines
or
You can run paid advertising, which might cost you money. Then you have to calculate how much you invest vs how much you make.
There is simply not such an automated system generating thousands of dollars per day.
The Good & the Bad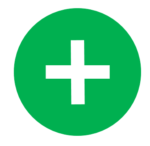 Low basic price
Money-back guarantee
N/A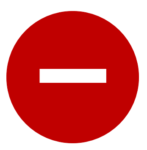 Unrealistic Income Claims & Fake Testimonials
Upsells (more than $320)
Low-quality training
Who Is It For?
You already have a clue who is this AZ Sniper system for. They want to address this course to newbies, who do not know yet what does it take to make money online. AZ Sniper along with other CB products (which I don't recommend) just takes advantage of inexperienced people, to lure them into buying the products with little value.
But of course, in the sales video, you are told that you don't need any technical experience. You don't have to have special qualifications to get started. Apparently, this AZ Sniper system takes care of everything for you.
False claims like this or that ordinary people earn $500,000 per year are just red-flags.
When you see such a statement, just be aware that there is most likely something fishy about the product.
AZ Sniper Tools & Training
This is how the members' area looks like. Nothing fancy, pretty simple which is not bad. But the thing is what is inside. Well, First of all I must point out that I don't like the fact that you are prompted to join this John Crestani product (which costs over $900).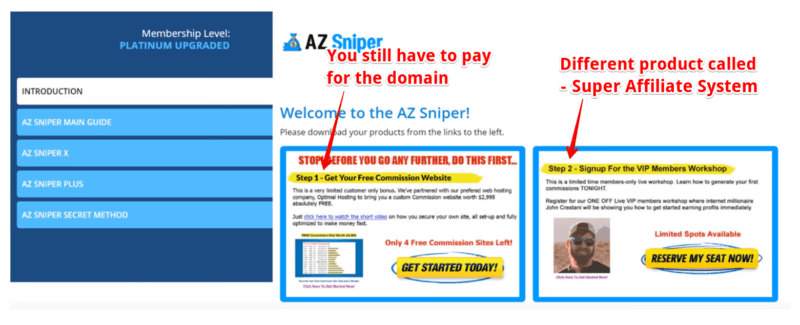 Don't get me wrong, I have nothing against John. In fact, I have done a review of that as well. It is truly a good system, with some drawbacks.
The thing is that a person purchases this product, he or she wants to learn how to make money with Amazon, and once this person accesses the membership area he is prompted to purchase a different product. What is the point?
I guess the only point is to get the fat commission, which goes to the account of the guys behind the AZ Sniper. (I believe the commission John pays is 50% at least).
So right here you can see that the owners do not care about the customer being educated.
That was actually Step 2), but I felt like to write about first since it caught my attention first.
Step 1) – Here you are asked to get your "Free" website. The truth is that you get the only domain name for Free. But in fact, you will pay at least $71!
As you see, that is just for a basic package.
Comparing to the cost for the domain I pay, the package with AZ Sniper is a total rip-off.
I pay $15 per year and here is what is included:
Site Speed – Better Rankings, better engagement.
Site SSL (HTTPS) – Encrypted connections
SiteProtect (Spam Blocker) – This blocks all automated comment spam before it hits my site.
etc
Now let's have a look at the "training".
AZ Sniper Main Guide – This is just a PDF file called Amazon Affiliate Beginners Guide. It has 21 pages and briefly it concerns:

Niche Selection Focusing on niche, evergreen niche ideas
Keyword research
Finding the right domain
Plug-ins to install
Article writing and formatting
Images and Videos

AZ Sniper X – This is another PDF file. In the 9 pages you will read about:

Set Up Amazon Affiliate Account (2 sentences with a link to affiliate amazon program)
Install WordPress
Install Your Theme
Customize your Theme
Add product reviews to your site

AZ Sniper Plus – You have 3 different files to download. – Instructions, Guide and Keyword tool

Instructions – 6 pages long PDF file
Guide – it is called Advance Amazon Affiliate Blueprint – 14 pages long PDF file where you can read about traffic, SEO, social media.
To sum it up – you get just a bunch of PDF files. Sure you can learn something, but the information inside is very basic. And regarding the setting up page "instructions" – the pictures inside the PDF which should help you to install WordPress, plugins, change themes are very hard to read.
Just go to YouTube and you will find great tutorials on how to set up a WordPress site for free.
Support
I could not find any link to the support page, nor email where you ask for help. To me, that is very strange, since the guy in the sales video was saying that he will be handling customer support personally.
But I couldn't find where to find him.
AZ Sniper Price Structure
This product used to be found at the ClickBank website. If you want to proceed to purchase, you are transferred to ClickBetter.
The thing is that the AZ Sniper used to be listed on the ClickBank but due to some reason it has been removed from ClickBank.
Now it is available on ClcikBetter, only.
It seems that many products (especially those with low quality) are being transferred to ClickBetter, which is newer and fewer people know about it.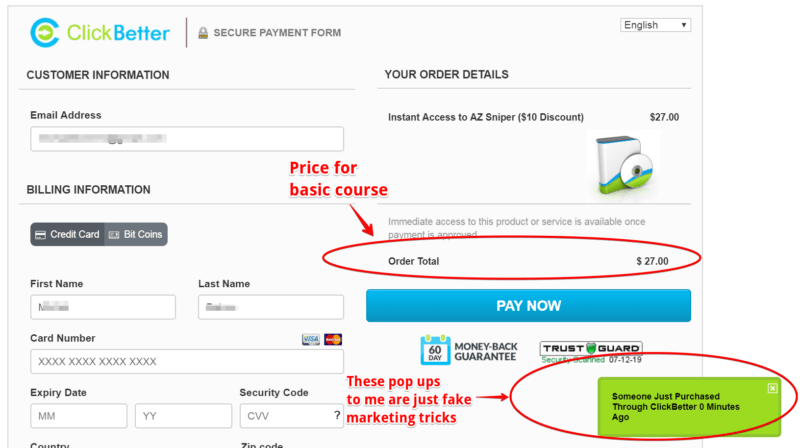 The basic cost is $37. I have managed to get $10 off.
Nevertheless, there are also upsells. You are not aware of them until you purchase the product. Also, you can find out about them if you want to act like an affiliate for this product.
Upsell called AZ Sniper X costs $197. There is a downsell to it so the price will be $147
Upsell called AZ Sniper Plus is for $177 (I think you might get better traffic for that price)
So even with the "discount" you still may end up paying $351!
My Final Opinion of AZ Sniper
The idea of earning with Amazon is of course great. And if you are interested in how to make money online, affiliate marketing is the best start for beginners. It might require some time and there is also a learning process involved.
AZ Sniper as well as similar products, like AZ Code, in my opinion, does not bring the desired value. A potential customer will end up with little to zero knowledge and a few bucks less on his account.
Is There a Better Opportunity?
It is not easy to find a legit platform with thorough training, right?
I get it – I use to search for training (including video tutorials, community, support, and step-by-step training) but I was struggling for almost 2 years. I kept on searching and I think I have found the single best online platform with a plethora of training.
I think you will like it as well. And I don't mean that you should join that platform as well.
I just want you to see how such a platform or training might look like.
So you can make a comparison.
Let me know in the comment section below whether it is something you like or you have a different opinion about the educational platform.
AZ Sniper at a Glance…
Name: AZ Sniper
Website: www.azsniper.com
Price: Advertised Price $37 (Downsell to $27) + Upsells
Owners: Stephen Ford (identification not confirmed)
Overall Rank:

VERDICT:
I don't recommend purchasing AZ Sniper. It has so many red flags right at the beginning. Besides, the training is poor quality and it just does not worth your $37, not even with a 10 bucks discount.
Save your time to save your money.
If you have any sort of questions regarding this particular system, or you would like to know more about the Amazon Affiliate program, let me know in the comment section below.
I'd be more than happy to help you.
If you are interested in how to make money with Amazon, I can suggest you join one educational platform where you can learn from scratch how to build an online sustainable business. This platform I am also a member of or, teach how to drive organic traffic. That requires time.
So if you looking for get-rich-quick systems, do not bother to join.
Otherwise, you have the option to check out the platform for free. Your starter membership is for free and you only need your email (no credit card required).
If you join, I can be your personal guide and will walk you through it.
After that 7 days, you can decide whether to upgrade to Premium (the membership is about $350 per year), or you want to stay as a starter for free (with limited access to features within the platform).
How to Get Started with Affiliate Marketing Business?
I have been a member of Wealthy Affiliate since late 2017 without a prior marketing experience.
Beginning of 2018 I have learned how to build a website that drives traffic and makes sales.
Since the summer of 2019, I am a full-time internet marketer and I work from anywhere I want, whenever I want.
Training within Wealthy Affiliate teaches how to generate a consistent income in the long run.