Welcome to the Auto Chat Profits Review.
We are going to check another ClickBank product called Auto Chat Profits.
Is it something that we can make a profit from chatting? Or is this a platform that will teach us how to generate traffic and eventually profit?
Let's take a look at this product.
We will definitely check deeper to find out whether the Auto Chat Profits is a scam or a legit e-product.
We are going to check the product to find out who is this for and whether it is affordable.
A very important thing we will be looking at is the price and upsells.
Disclaimer
Please note, that I am not a member or an affiliate of Auto Chat Profits.
This review is based on research and information available online in the public domain.
Any recommendations and conclusions are only opinions and may not apply to all persons or situations.
Name: Auto Chat Profits
Website: www.autochatprofits.co *
Price: Advertised Price3 $37 + Upsells
Owners: Samantha Smith
The thing is when you click on the "http://www.autochatprofits.co/" it will say that the product is sold out. A good try to build a scarcity🙂
The website (and the product) has been created in September 2018.
Auto Chat Profits Overview
Auto Chat Profits or ACP is software, which will build you a "Done-For-You" Website loaded with robot technology in 6 minutes and 14 clicks.
It's a "point and clicks" software app designed to Make Fast Money from Affiliate Marketing.
Well, this is what they tell you in the sales video. Let me break it down;
There is no such a thing as "Fast Money". They basically say that this is a get-rich-quick scheme.
Affiliate Marketing is a legit way how to make money online. In fact, it is recommended for beginners. But Let me tell you right now that Auto Chat Profits does not have enough material for you to generate the promised income.
They have a website ready for you and chat-bot software ready to answer visitors' questions.
Apparently, the chatbot communicates with the customer, and based on the communication it sends him your affiliate link.
So when a customer buys this product, you get the commission.
Basically with ACP you promote other ClickBank products and earn a commission from whatever product you sell.
The Good & the Bad
Pros: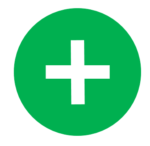 Free demo version
Money-Back guarantee
n/a
Cons: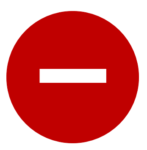 False claims regarding the earnings
A reused product like 5 Minute Profits
Not a solid platform. Zero-knowledge
3 Upsells
Who Is Auto Chat Profits For?
Everyone can join the Auto Chat Profit. The less you know about internet marketing the better for the owner of this system.
So please if you only recently started to learn about digital marketing and how to make money online, I encourage you to pay attention to any unrealistic claims such as – "I just made $1,450 a day".
But I believe, that even if you don't have any prior experience with digital marketing it is obvious from the sales video, that it sounds too good to be true. And that is a fact.
There is no way that somebody can start making money online by merely signing up for a program (especially when it says "done for you" or "automated") and a few hours later there are a few hundred in his account.
People tend to fall for it since it is on the internet and it says automated.
Auto Chat Profits Tools & Training
It is pretty similar to the other ClickBank product called 5-minute profit.
Once you are inside the program, you will need to go through 3 steps.
Step. You need to create a ClickBank account. Which is pretty easy. Use that Clickbank ID
Step. Choose a name for your website. They have a pre-built website so you don't have to think of any new name
Step. You sign up for an Email Service so you have your email connected with the autoresponder.
Support
They do have their own support section. I have not had a reason to use it. Although it is good that you can ask them a question directly.
Auto Chat Profits Price Structure
I like the way the process work when you are about to sign up. First, you have this pop-up with this Wheel of Fortune. And look what I got: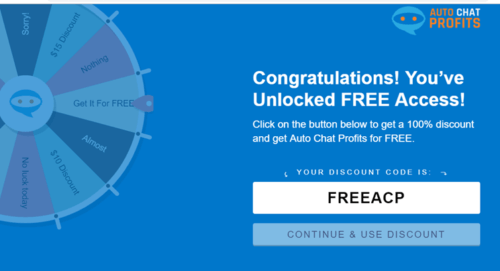 I got it for free. Isn't that amazing? 🙂
Of course, it is.
But my guess is that everyone who turns that wheel will get it for free. You are then directed to the purchase page where you are asked about your credit card detail.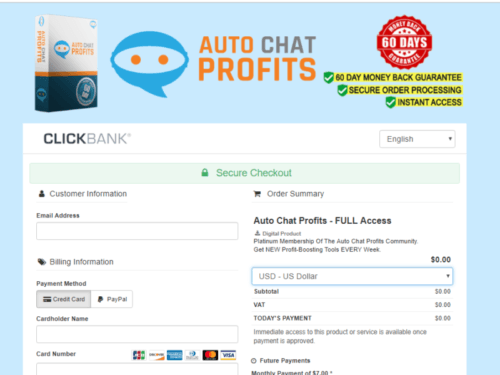 To me, it is already suspicious.
They have my email, they make me think that I get it for free, so why in the world do they ask me for a credit card. Wait a minute – check the very bottom of the screenshot.
There it says:

"Next payment will be billed on Apr 20, 2019…"
As I am writing this review, today is April 6, 2019. That means, that the payment will be billed automatically and it recurs.
If I don't want to be charged I will need to stop automatic billing – the best way is to contact ClickBank support directly.
Just out of curiosity, when you are in the signing process and you decide to "talk" with the bot, you can get your product for " free" as well.
I recorded the entire process of ACB Bot chatting with me. Actually, I did not chat – only clicked on the prepared answers. You can check the " conversation" right here.
Video has no sound so you can keep your favorite music on 🙂
Also, I apologize in advance, for some clumsy movements with my mouse.
Regarding the price structure, there are 3 Upsells.
Of course, they are not mentioned anywhere up until you are inside the platform. And they are pretty expensive in my opinion.
1st Upsell is for $197
2nd Upsell is for $187
3rd Upsell is for $97
Pretty steep I believe.
At first, you may think that this thing is for free and you may end up paying $481, just for the upsells.
That system really makes money – for the owners.
My Final Opinion of Auto Chat Profits
Does that sound like a scam?
It really depends on how you define a scam.
It has some aspects of scammy products. Although the reason I will not call it the scam is that you can get it for free – but for a few days only.
So be aware of that date.
Also what is a red flag, at least to me, is that this is already an old product with a new name.
As I have mentioned and you have probably already seen the review on Five Minute Profit Sites these two products have sure share some common attributes and features.
Not mentioning the upsells and fake testimonials.
Affiliate Marketing – Legit Way To Make Money Online – Get Started For FREE
In case you like the idea of making money with affiliate marketing, I do have something for you.
It is an educational platform with a plethora of training inside about how to build a website, how to drive traffic, and of course how to monetize this traffic.
What I want to point out right here is the fact that you will not make money in a week.
This is a build-your-own-business opportunity and that can't be done within a few days.
If you feel like you might be interested in it, go check my review about this platform and let me know what you think.
Auto Chat Profits at a Glance…
Name: Auto Chat Profits
Website: www.autochatprofits.co
Price: Advertised Price $37 (You can get a discount – with discount Demo version is for free) + Upsells
Owners: Samantha Smith
Overall Rank:

The only reason I give it a slightly better ranking is the price.
VERDICT
I would not buy this product. It follows the same pattern as the 5-minute profit scheme.
If you are already sick and tired of similar products, where you see the same sales video with fake testimonials and unrealistic earning claims, I suggest you read this review on WA as I already mentioned above.
Take it as another kind of product – you will see in the review, what the platform looks like, and what to expect.
The most important thing is that you can sign up for free. You also have a 7-day period, where you can test the Premium Membership.
But you don't need a credit card. Just use your name, nickname, and email address and you are all set to get started for free.
Let me know in the comment section below what are your thoughts about this product called Auto Chat Profits. Have you already seen a similar system?
Also in case, you had a chance to check out my alternative, let me know if you have some questions.
I'd be more than happy to give you an answer.