A couple of years ago I was searching for a job in the US.
Having experience in the aviation field (Airbus) I thought I'd give it a try on the other side of the ocean so I have visited many websites where I applied for a job.
Naming just a few of them, CareerBuilder, Monster, or CTS.
Only recently I stumbled upon a website called American Online Jobs and I was wondering what kind of a job they offer in the online world.
Since I created this website (Set Affiliate Business) 2 years ago and I still gain experience in the internet marketing field, I was really curious about what the AOJ website has to offer.
But being only a few minutes on that site I started to feel that something is just not right. I have dug deeper and decided to come up with a review of this system.
American Online Jobs seems like a legit website where one can earn money, but only at first sight (and that sight lasts only a second or two)…
Does it mean that American Online Jobs is a scam (AOJ)?
In this AOJ Work From Home Job Review, we are going to answer that question.
We are about to check how this system works, how is the training within the AOJ, and who is behind this website, and by the time you are done reading you know whether you can find an online job or maybe earn some bucks on the side.
Disclaimer
Please note, I am not a member or an affiliate of American Online Jobs.
This review is based on research and information available online in the public domain. Any recommendations and conclusions are only opinions and may not apply to all persons or situations.
American Online Jobs Summary
Product Name: American Online Jobs
Price to Join: $0 (there are fees for specific training and/or for ads)
Creator: N/A
Rating: 0/10
Do I recommend it? No!
What is American Online Jobs (AOJ)
American Online Jobs is a website created in 2018 promising you to make something over $700 per week. You are promised to have access to the online jobs which you can do online.
One would assume that the home page will be full of offers and lists of jobs.
But the first thing a visitor of the AOJ site has to do is to go through a questionnaire. Fair enough, it is not a bad idea to fill up some forms so you can see a list of jobs that matches your profile.
But right here, something odd is going on.
If you have not seen that yet, let me show you how it looks.
At the bottom of this questionnaire, you have the following option to "apply". You would expect to get to the page with a bunch of jobs.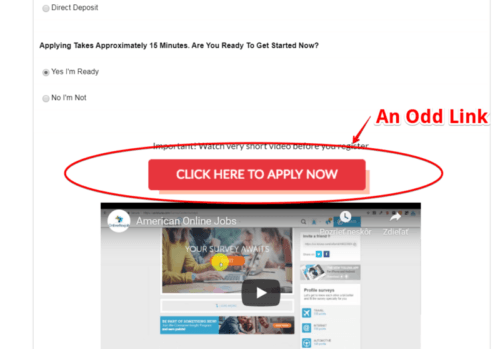 Instead, here is where it directs you:
either some casino game page
Or
And this does not make any sense. I click on the "apply" button and 3 out of 4 times it doesn't work, meaning I get to the "empty page" (the 2nd option). Once out of 4 clicks, it gets to the casino page.
It may be different for you, but it definitely does not show you any job.
At the very bottom, you have then a button saying to go to Step #2.
So now we are about to find out how this system works (or how it should work).
How does AOJ work?
Once completed the questionnaire you can go to step #2.
But wait – Let's go back a little bit.
I have tried to click on the questionnaire and found out that I was able to get through even without checking the boxes!
So how does it really work?
Is the questionnaire some kind of "introduction-fake" page?
We have not gone very far with our review and there are already a couple of red flags, that show that the AOJ is most likely not a website where one can find a regular online job.
Let's continue, we might find out some more interesting stuff.
What is 2nd step about?
You can watch an introductory video. Below you have a link that says "Create Your Free Account", but when you click on it, it gets you to the same casino page as we have seen above.
Below you have a list of some companies looking for referral agents. That is at least according to the page.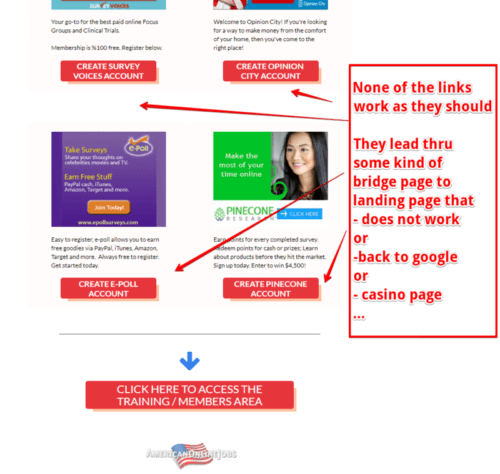 All of these links redirect you to some kind of a bridge page (TPMR with a random number).
This TPMR bridge page uses a random number in the URL, it is possible that you get to a different page, but I am sure none of the pages offer online jobs.
Let me digress a bit – What is TPM Rotator?
The rotator is a simple URL that upon visiting, directs the visitor to one of many different web pages. You can promote one link only but the visitors will land on many websites. The number of websites they land on depends on how many of them you add to the rotator.
In other words here is how the TPM rotator works:
You load all the links you want to promote into the rotator
Promote your rotator URL
TPM rotator will do the rest
That is why, when you click on the links within the AOJ page you may land on a different page than I do. Sometimes it gets to the casino webpage, and sometimes … it does not work. That means that the creators of the AOJ website do not maintain the links.
(Anyone who wants to use the TPM rotator must log in to the TPMrotator site every 60 days otherwise the rotators will be paused).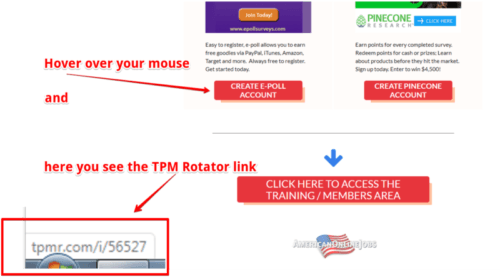 Scroll down where you finally can get to the training site.
The Training Area
You have the training inside the member training area. It consists of 9 lessons.
Let me go over these lessons just shortly.
1) Lesson
– it is an introduction and it has no real value. Besides welcoming you it shows you to go to lesson #2,
2) Lesson – Make money with Facebook GRoups, PPC, and FB Jobs
It shows you how to become a member of FB groups.
Facebook groups that have something to do with the niche you are in, or simply groups having a "work from home" somewhere in the name.
According to the AOJ training, you should join at least 10 to 15 groups each day.
Once you have joined the group, you take the link to the website you get from the AOJ and you post it within these groups.
You can also create FB jobs, within the groups.
The third is FB Ads. They show you how to create the Ad.
3) Lesson Craigslist
It shows you how to set up a Craigslist account and how to post an ad.
Interestingly enough they use the words "secrets of craigslist".
The entire video is less than 2.5 minutes long so don't expect much of a secret from it.
Here is the deal.
You are advised to post an ad on craigslist and pay for it. According to the "training", the price for each ad is from $10 to $40 in the job section or something about $5 in the gigs section.
The ad should be in the "Jobs-> Customer service" section.
Here are the instructions:
"You come up with a great title and your ad. And then at the end be sure to include your link in the ad and follow the posting instructions… and watch your lead come in".
they don't say what is a great title, nor they show how such a great title looks like
they don't say that the title should be relevant, it should stand out and it should not be a too cheesy
So that is basically the secret.
Be aware though, that posting a link that leads to this website (American online jobs) is very misleading and it is not ethical.
4) Lesson – Bing Ads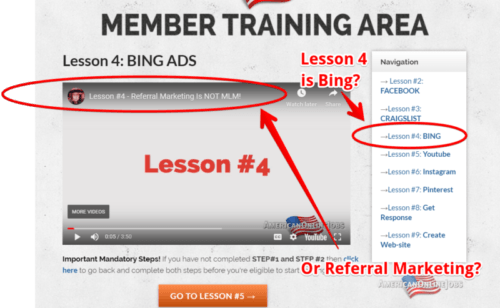 One can get easily confused since in the menu section it says Bing but the video is about Referral marketing.
It correctly points out that referral marketing is not MLM (in this article it is explained more deeply what an MLM is).
But this 3:50 minute AOJ YouTube video doesn't explain in more detail, what referral marketing is.
It only talks about the basic structure of the MLM.
5) Lesson – YouTube
It says that once you correctly rank on YouTube it can bring you leads and traffic to your website.
Yes, that is true but this is not training.
It only explains to you that people post the affiliate links in the description of their videos to get the traffic.
You are instructed that to get the training you have to click on the link below (within the AOJ training area). It leads to a website called Udemy with a training YouTube for Beginners. It costs about €11 (about $12.25).
6) Lesson – Instagram
I was expecting another video about Instagram, but there are just a few words regarding Instagram.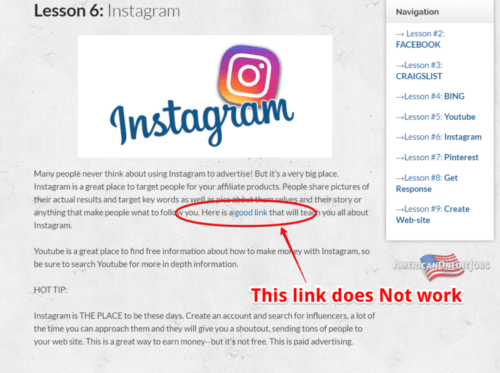 Another error in the American Online Jobs Website.
Thank link where you should learn all about Instagram, does not work.
7) Lesson – Pinterest
You find here just a few sentences, with a link to another website about Pinterest marketing.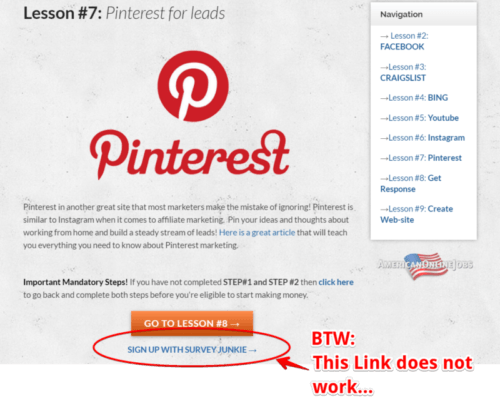 I would not dare to call this a lesson.
4 sentences with a link to another blog post is not a lesson.
8) Lesson – Get Response
Get a response is an autoresponder where you can automate emails.
It is a good tool once you have some traffic to your website.
You basically ask your visitor for his or her email and you offer something for free. Either free training (just like the window that popped up on my website 😉 ) or some information (f.e. a pdf document on how to rank well).
You can check the pricing and other information about the Get Response, without even signing up for the AOJ).
9) Lesson – Create a Website
Here you get information on where you set up your account and website.
You have a form to complete and after that, there are 24 hrs to 48 hrs buffer until your site is up and running.
To me, it takes very long.
I mean once I am a member of any platform, I expect to have a website within minutes.
At the end of this post, I share with you a video from a different platform (which I am a member of), where you can see how long it takes to get the website done (it can be done in a minute).
Anyways, regarding the AOJ, here is an example of how your website might look like: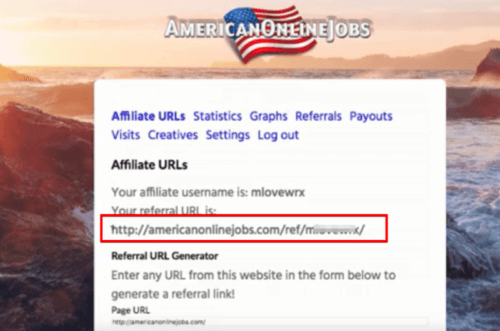 You have then access to different menus as Graphs, Referrals, Payouts, and other analytical data.
To sum it up
So according to the AOJ, there are (theoretically) 2 ways how you could make money:
Completer surveys – We have seen that those links don't work. They redirect you to the casino webpage or any other webpage depending on how the TPM rotator is set.
Referral Marketing – This is vaguely explained but the main problem is that you only going to share a link that directs new people to the website americanonlinejobs.com. So that really does not make any sense…
Practically – none of the above works…I think that is sad.
Who are those people behind it?
Who Is Behind the AOJ?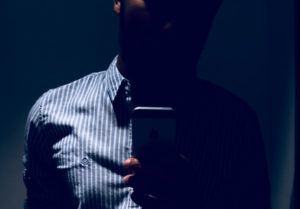 It is almost impossible to find out who is behind the AOJ. The only contact to be found is in their Privacy Policy Page and it is the email address.
I wrote them an email, but so far no feedback.
Usually, such companies use an autoresponder service, but it is not the case with the AOJ.
Based on the information about the domain, we only know that it has been registered in February 2018.
There is no address, no telephone number, no About page – basically nothing who you can contact to.
In the email I have sent, there is no feedback, so I doubt that someone read it.
Missing contact information is a big red flag and you should not sign up for such a system.
The Claims vs Facts – The List of Red Flags
What is the purpose of the questionnaire that does not work, that does not have any value?
No matter how you fill that out you still get to the same page.
The value of such questions would be if you end up on a page with a list of jobs matching your profile.
Home page with a suspicious link
Right below the questionnaire, there is this button "Apply now"
That does not work or it directs the visitor to a suspicious-looking website where one should create an account within some online casino website.
A list of surveys is a fake
There is a list of companies, apparently looking for referral agents. Links, where you should click and sign up for the surverys simply, don't work.
They all lead to the suspicious-looking casino website.
The training is not a real training
It is just an introduction to show you how you can possibly share the link – what media to use.
Some of the links within these "training material" do not work either.
Clearly, American Online Jobs offers no jobs, whatsoever.
Period.
The only function of this website is to redirect you to different websites and earn commissions from those who end up buying something.
It is basically a website using affiliate marketing as a source of income.
Is American Online Jobs a Scam?
Besides the red flags above, I would like you to be aware of their clone sites as well.
Here are only those I was able to find out:
aojonlinejobs.com or .net
amercianonlinejobs.com
aojworkfromhomejobs.com
The reason I point this is out is that there is no information about who is behind this system. A regular internet user, just like you or me, does not have a chance to find out the real people.
That means these people can go and open another website, with the same incentives and scam more people.
It reminds me of other scam sites, like Social Bounty or Tap 2 Earn, where they use a fake address and email that does not work.
With that being said, if you see a similar page, offering you quick money and you have no way of finding out who is the owner – stay away from that site. Do not believe a single word they promise.
What I like about AOJ

There is not much I like about American Online Jobs.
This website/system is deceptive.
What I don't like about AOJ

Deceptive System
The questionnaire does not work properly
Too many links do not work. Those that work leading to a website that has nothing to do with jobs online
Owners not known
No Contact Information
What Does Really Work?
Today the web is saturated with "offers" as the AOJ has. Most of the systems promise you quick money or some easy money, but the reality is that it never works.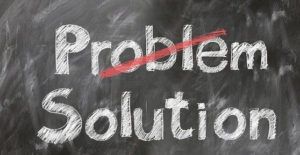 Whenever you see an "offer" like that, be very careful and do research first.
If you are interested in what does it take to build a business, let me share with you the "Secret":
1) Choose a niche
2) Build a website
3) Keep creating content – to get free traffic
4) In about 6 months of hard work you may see results
5) In about another 6 months you can have a couple hundred per month
6) Keep working and in about another 12 months you have at least $2,000 per month.
One of the most important things at the beginning is to have the right mindset. That means to think in the long run.
Then if you have access to proper training, the entire journey is easier. I am not saying easy, but it is easier with support and guidelines/training.
Final Verdict About the AOJ and a Something for You
Very disappointed with the American Online Jobs website.
It acts like a regular site where people want to find a new job, but at the end, they are just taken advantage of. I think it is a shame.
People get frustrated when they bump into such a scammy system. At the same time, they are aware of the fact that there is a way how to make some bucks online.
I have described in another article (you read it here), the principle of making money online. I use real websites as examples, and based on the traffic these websites get one can estimate how much they make.
Does it seem like a lot of work? Well, yes – you get it right.
Is it impossible for an ordinary person to develop such a website? Well, no. It is quite possible.
What is the secret?
These websites, or any other website generating consistent income online, started as empty websites.
In the beginning, they looked like this: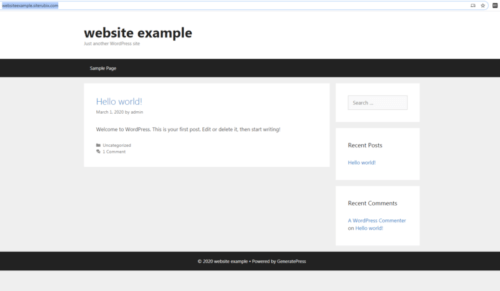 Here is the link to that website.
You can also watch this short video to see how easy it is to create such a website.
It can be done within a minute.
The platform where the website is created is called Wealthy Affiliate and you can sign up too, for free. (The access to the entire training is paid, but there is a 7-day free trial where you can take advantage of the first 10 lessons. To get there you only need an email).
Once you in that platform you can create your own subdomain too.
Besides the chance to have your own website, you get access to the plethora of training which you can apply and with this training and support, you can expect that people start visiting your page within 3 months.
Learn more about this platform and when you decide to sign up, I will welcome you and you get a personal message from me.
So as I said each and every website looked like an empty canvas at the beginning.
A person with a vision, and determination to work on that website every day (at least an hour a day, the more often you work on the faster results you get) gets traffic that eventually can be monetized.
It is called affiliate marketing.
Affiliate Marketing is considered one of the easiest ways how to start generating money online.
I am not saying it is easy – it is important to realize that it takes time and effort, but it is definitely worth it.
If you have any questions regarding the AOJ, or you would like to find out more about how you start with the business online, let me know in the comment section below.
I will be more than happy to answer your questions or discuss topics related to the stuff we have just gone through.