You are wondering what is the Affiliate Escape Plan 2nd version all about.
Something is telling me that you have already done some research about this system.
Well, in the following Affiliate Escape Plan 2.0 Review I will share interesting information with you.
And based on that you will be objectively able to form an opinion on whether this is a good platform or whether you should look somewhere else.
It is your money, right?
So it is important to do proper research and I am glad you are doing so.
Why Does My Opinion Matter?
Well, the truth is that I don't know everything, but years of experience as an engineer and working as an affiliate marketer since 2018, give me enough credit to assess the digital project called Affiliate Escape Plan.
I left the job as an engineer since I wanted to be independent and free… and be my own boss. I figure that I might even help others (people like me) who want to find a different path in life/career.
That is why this website was founded.
I am not here to promote the Affiliate Escape plan, so I will remain unbias (as much as I think can be).
On top of it, I will walk you through the entire course and give you an opinion about specific points so you can have a great interview by the time you are done reading this article.
Disclaimer:
Please note, that I am not a member or an affiliate of Affiliate Escape Plan 2.0.
This review is based on research and information available online in the public domain.
Any recommendations and conclusions are only opinions and may not apply to all persons or situations.
Let's get started.
What Is Affiliate Escape Plan 2.0?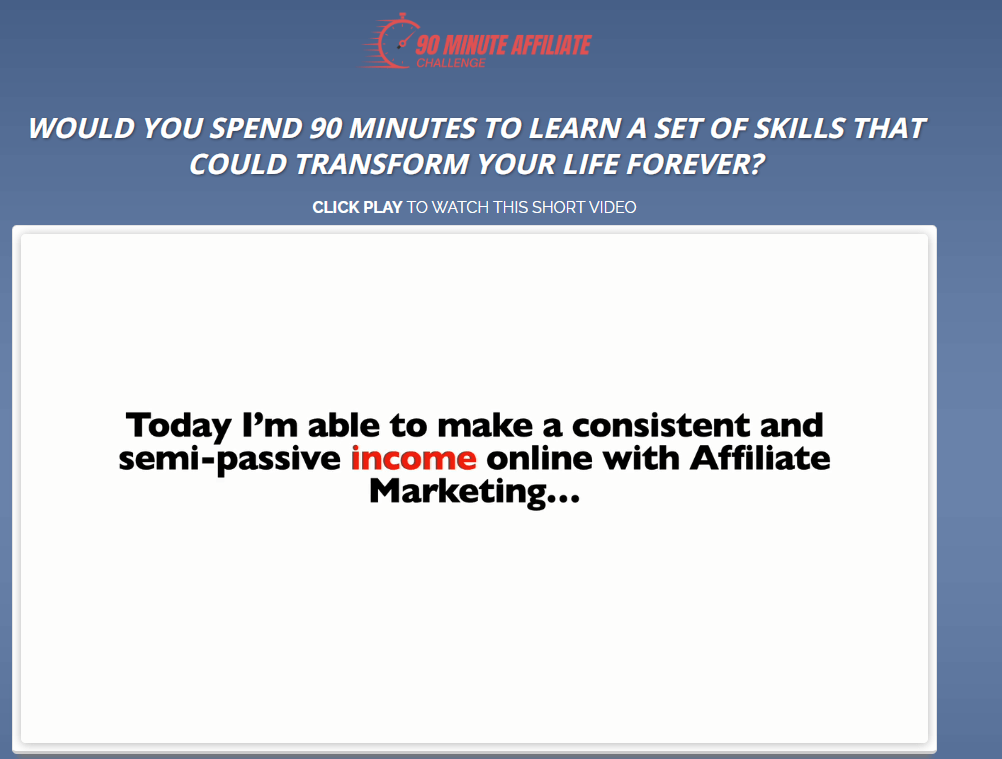 Affiliate Escape Plan 2.0 is an intensive course teaching how to become a digital entrepreneur – to be a specific affiliate marketer.
A student will learn:
What niche to choose to earn the biggest commissions
How to set up a funnel properly
How to create content that converts well.
This is a second version already and the founder of the course wants to deliver a lot of value before selling the actual course.
The founder's name is Brian Brewer and he has been involved with affiliate marketing since 2014.
It took him some time to become successful.
He came to the realization that the value must be given first and only then it is possible to sell something.
That's why he has a pre-course that is free and anyone can watch it.
(I am going to go over the 90-minute challenge if you know what to expect).
Let's find out more about Brian.
You always want to know who runs a certain business.
Sometimes this sole information can reveal whether it is a scam or not.
Who Is Brian Brewer?
In this case, we know that the name of the person behind Affiliate Escape Plan 2.0 is Brian Brewer.
Research shows that he is a legit and successful affiliate marketer.
It wasn't always like that.
(I mean has been legit, but wasn't a successful affiliate marketer).
Prior to that, he used to be a waitress and as a waiter, he was making quite good money. Brian was able to feed the family and take care of the baby and as he recall their life were comfortable.
But that wasn't enough. (And I can fully relate to that).
He wanted more, and it was not always about money, he wanted to have freedom.
Freedom to work:
anytime he wants
from any place he wants
It took him 4 years to figure out how this works. And it is quite normal.
Although it is possible to speed up the process, with the proper training. And if things are done, well, it doesn't have to take years to start making consistent income online.
Related:
But back to Brian.
He has (as far as I am concerned) at least 2 Youtube channels
Youtube channel(s)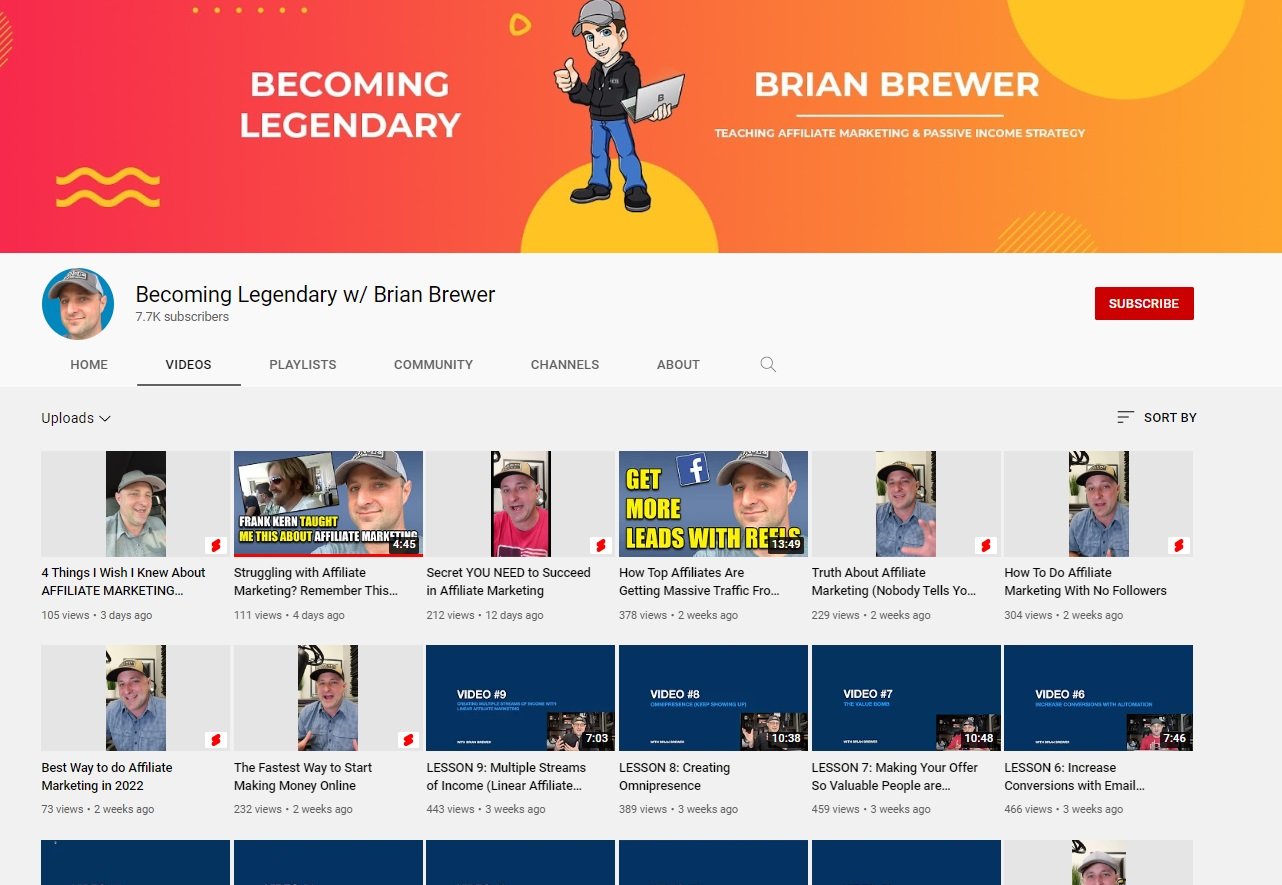 Brian's youtube video has been created in the middle of July 2019. As of the time of publishing this article, there are 271 videos and the channel has 7.7K subscribers.
So it is not bad, and one can get a lot of valuable information from there.
He has also a 2nd channel but did not post a video for a year.
That 2nd channel has more than 76K subscribers. It is called Madcam Publishing, and there are 41 videos, with more than half a million views.
The videos on this channel direct people to a different product called Legenda Marketer.
Nothing shady about that. It just proves that Brian is an experienced affiliate marketer.
Udemy courses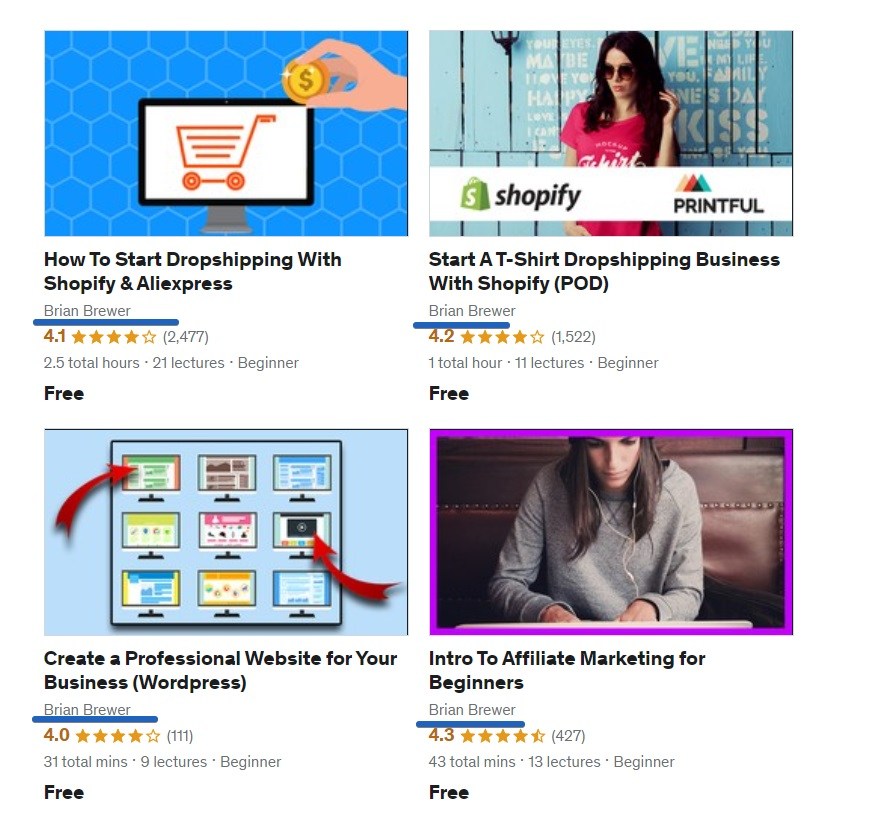 Besides that Youtube channel has 4 courses on the Udemy website.
they are partially free which is a good thing.
So you can watch for free what to expect and then decide whether or not to purchase the rest of it.
Some Info regarding the website
I am always curious about the age of the website.
In other words, in many cases, the registration date of a certain website can reveal whether the information on that website is true or not.
(For example, certain websites claim to be around for 10 years. But when you check the registration date, it says that the age of the website is only 2 years.
This is a major red flag, but it is not the case with Affiliate Escape Plan).
So the website was registered in November 2020.
Crosschecked with the actual info we get from Brian, we see nothing suspicious about that.
Just out of curiosity, I wanted to know how old is his own website www.brianbrewer.com: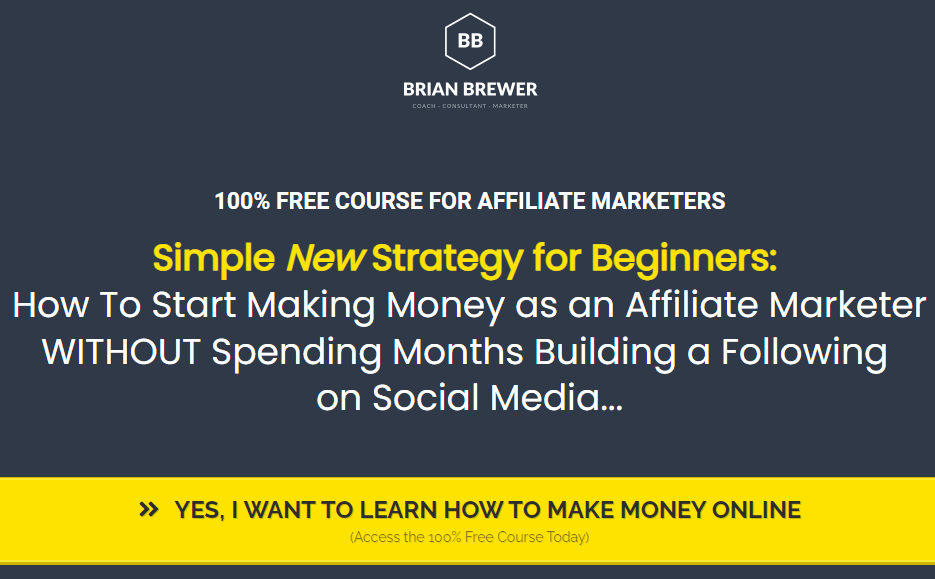 The website is s simple page website that takes you directly to the 90minuteaffiliatechallenge.com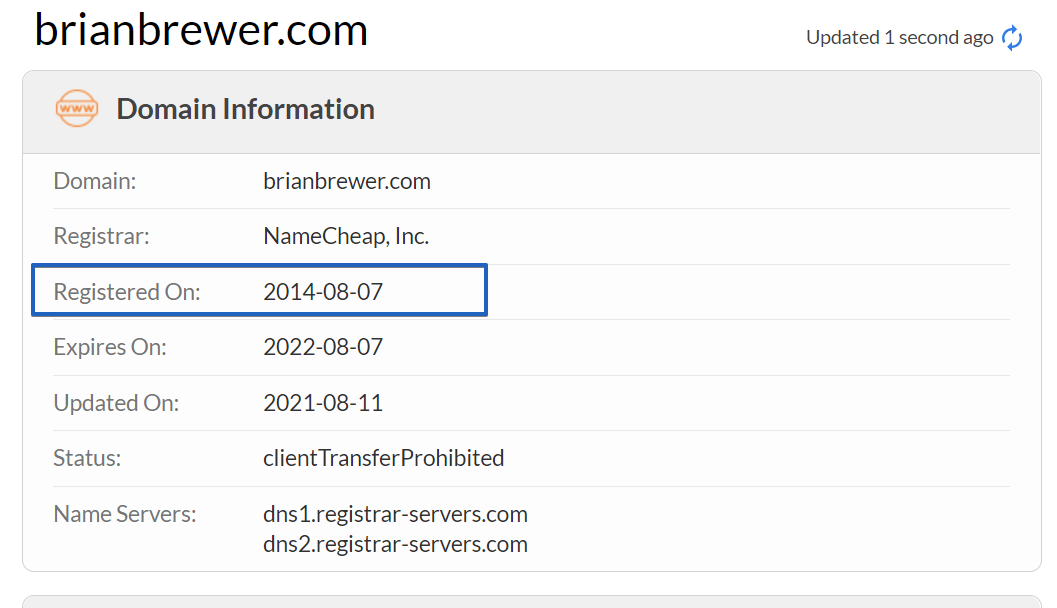 It is quite old, compared to his sales website.
BTW, that pre-course page, www.90minuteaffiliatechallenge.com was registered in November 2021.
That's perfectly OK since this free pre-course was introduced with the 2nd version of the Affiliate Escape Plan.
Affiliate Escape Plan 2.0 Review
First of all, there is the 90 min challenge, already mentioned above.
Before that, you watch the introduction video to the 90 min challenge:
In about 5 minutes he explains what to expect.
As an option, you can invest $9 (one-time payment) and get a bonus. called "Clone My #1 Campaign".
Or you can just go to the 90-minute affiliate challenge account registration page.
1) One-Time Offer – Clome My #1 Campaign
For $9 you can get access to Brian's done-for-you funnel in the ClickFunnels account.
You can then just do a few adjustments to the funnel and make it your own.
There is a Catch:
The thing is that you need to have an active ClickFunnels account and an approved Legendary Mareter Affiliate Application.
The ClickFunnels basic plan costs something like $80 per month.
So in case you don't have that activated, you will pay more than $9, right?
Please be aware of it.
2) 90 Minute Affilaite Challenge
You will receive an email in your inbox with a link.
Click on the link and you again, need to put your email password and confirm the password.
Then you have access to the 90-minute affiliate challenge dashboard.
Since it is free and you won't lose a dime, you can either go through the training by yourself.
Or just let me show you what's inside and I will provide you also with my opinion about each module (if necessary).
Inside you find 8 videos (called Secret) that go through different stuff, from some history about Brian, through motivational videos, and in 3rd or 4th video, Brian goes to the actual training.
Let me share with you one particular image that he showed in the video: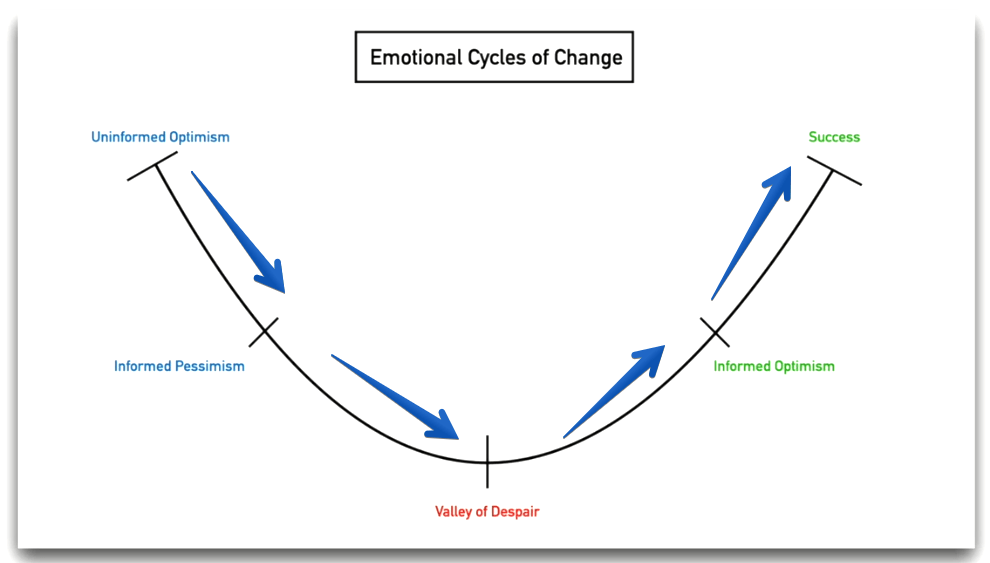 To me, it actually makes a lot of sense, since I have gone through the stages as well.
(well, to be honest, I have not entirely reached the last one, but working on it:)
Here is what it covers:
Why Affiliate Marketing Work?
In the video, it is explained why affiliate marketing is the simplest model there is. You don't deal with customer service, and you don't need to make sure the hat product is delivered.
Really, it is all about content. He advises selling (or promoting) high-ticket digital products that offer the biggest commission. For example, you can get $300 per sale.
Don't Chase Too Many Products
It is important not to be distracted by many different products or even worse – niches.
Brian made that mistake and at one point he was running 4 different websites… At the end of the day, he realized that it is not worth the effort.
So he started to focus on one product only.
Ideally, a high-ticket product where you can earn a big commission.
One Funnel
This is related to the previous paragraph.
With the funnel, you promote actually one product.
Funnel is a one-page website that gathers email addresses. Plus it also sends the visitors to the partner website with your affiliate link.
So it has 2 purposes:
You build your own email list
It sends people to the merchant's website – when people buy the product you get a commission.
If people don't buy the product/service, you have their email. So you can send a follow-up email to stay in touch with them and eventually sell them something else.
2 Types of Funnels:
You can have a 1-page funnel: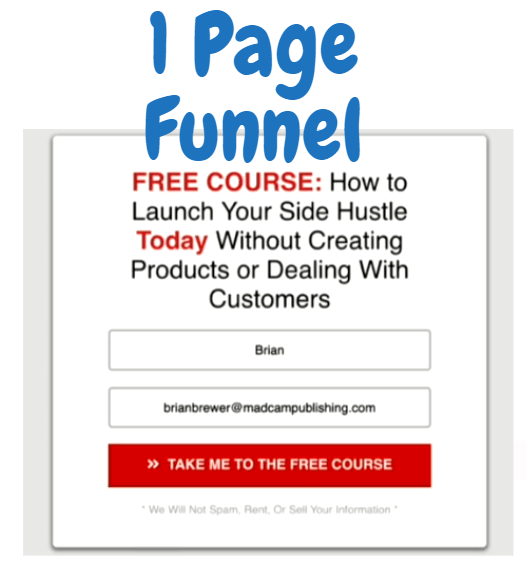 Or 2 pages funnel, where the visitors go to the 1st page and then to the 2nd.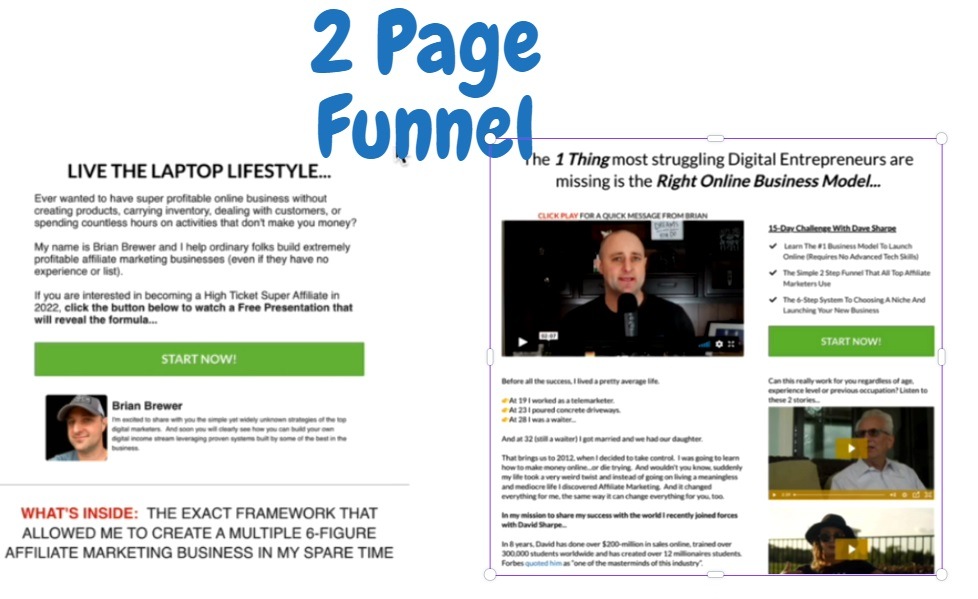 Actually, students going through the 90 min challenge can clone the funnel for just $9.
Digital Product
The best product to sell or promote is a digital product. This can be a piece of software, of course… Actually, Brian recommends selling his own product.
And even though he does it in a relatively easy way (not too hyped up), in my opinion, this is not a very good strategy for the students.
Does it mean that each and every sudden end up selling Brian's Affiliate Escape Plan?
It really seems that that's Brian's plan.
But how this can work, if hundreds of people start selling the same product? There must be huge competition and that's why only a few people will succeed, eventually.
Content
How do you attract potential customers?
So to get the people through that funnel you need to somehow attract their attention. And that is done by your content.
You can use:
TikTok
Youtube Shorts Or regular videos
Facebook Reels
Your task as an affiliate marketer is to answer various questions, regarding your niche.
So before shooting the video(s) you want to follow these steps:
Learn
Share what you have learned
Attract
And Refer
At the end of the free course, Brian gives you 2 following choices: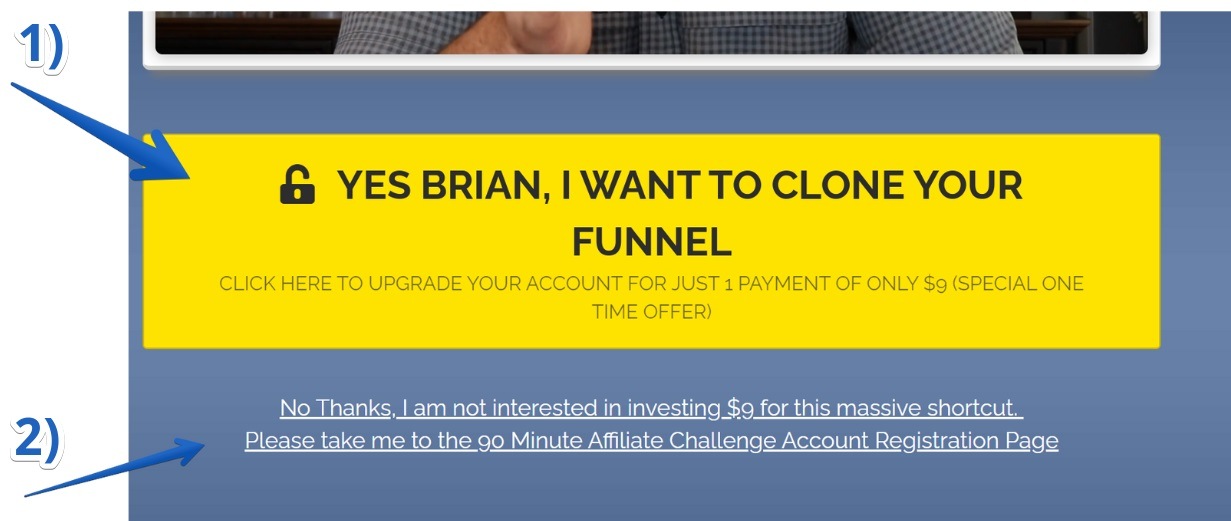 You can become an affiliate without paying for the course. But it may take time, since "he has to filter through a lot of applications".
the thing is he wants to make sure that the aspiring affiliate does the right thing.
You can join the Affiliate Escape Plan and get affiliate approval almost immediately.
So overall, this is a sort of free trial or an introduction to the Premium Course.
It is a nice thing to have free access to some sort of training so you know what to expect.
Note:
This was not available with the 1st version. So it is great to see that Brian keeps updating his courses, to offer more value.
What is Inside of The Affiliate Escape Plan 2.0 Core Training?
Inside the Core training, you can find at least 14 lessons, and in this section, I am going to briefly mention what is inside and I might add some comments (if applicable).
Lesson 1 – Crossing the Valley
In the 1st lesson, Brian focuses on the proper mindset and how to deal with inevitable struggles.
It is actually important to let the students know that no matter how savvy one is, the upcoming difficulties are inevitable.
A student is actually shown the process that is mentioned in the free course (that you might have seen above):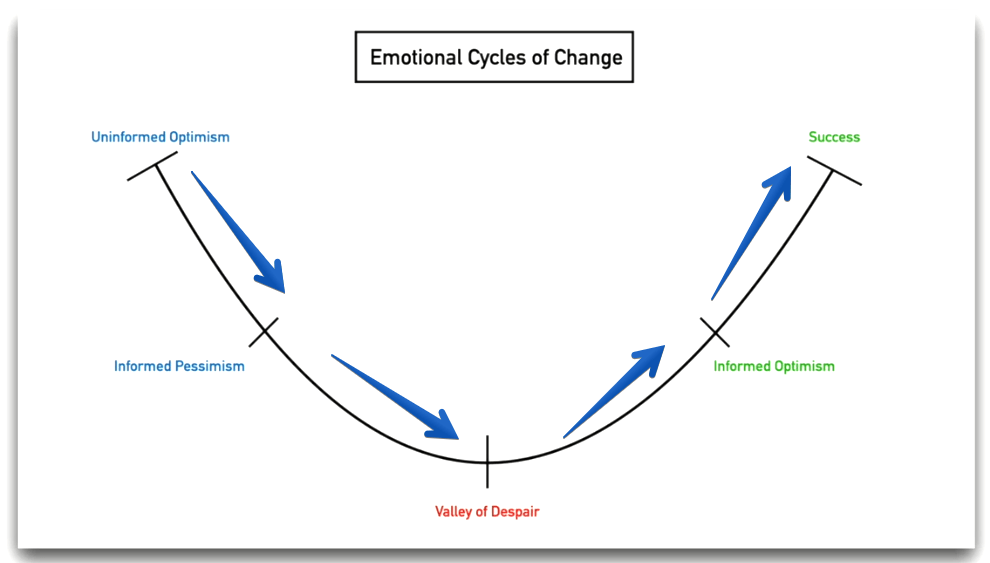 The phases are
Uninformed Optimism – That's the beginning when we see the end result, without realizing inevitable obstacles.
Informed Pesimims – Suddenly we realize the obstacles and it is questionable whether we can make it or not.
Valley of Despair – In other words, the Rock bottom. Brian actually helps you to get through this lowest point.
Informed Optimism – Once we know what we do, we start to see results and positive outcomes
Success – No comment is needed on this one, right? 🙂
Lesson 2 – Why Affiliate Marketing
Why Affiliate Marketing is the best business model?
It is a simple model where you focus only on marketing, (content creation)
Whereas, in another form of business you need to also take care of
Fulfillment
Customer service
Suppliers
Ant that requires additional energy, time, and even costs.
Lesson 3 – Choosing Your Niche and Finding the Best Products to Promote
This is the most important step, and many people struggle with the proper niche selection.
In the 3rd lesson, Brian helps you to pick the right niche, or evergreen if you will.
(As you know there are some sessional niches, like ski equipment that are viable only in a specific season).
Here are the 3 recommended niches.
Wealth
Health
Relationships
Please note that these are rather broad niches. So you want to pick one and dig deeper to find a specific microniche.
That way there won't be too much competition.
What is the perfect niche?
It depends, and even though I can give you the best niches, you are the only person that knows what is the best niche for you.
Why?
You have to have some sort of experience with that niche, or you must be really interested in certain topics within that niche.
Ideally, you want to choose something you are passionate about.
The thing is, imagine working on your website, creating content (or YouTube), and not seeing any results for 5 to 7 months.
If you have no interest in the niche, you might burn out quite easily.
Lesson 4 – Congruency in Copy and Messaging for Success
In this lesson, students learn about consistency throughout the campaign.
Here is a simplified example:
You don't want to throw a bunch of links on social media and "hope" that someone clicks on them and makes the purchase.
Instead, it is crucial to learn how to attract your potential customer.
Brian reveals the process of the 3 following phases:
Attraction and Introduction
Conversion Sequence
Sale
There must be relevancy throughout the entire process, so your prospect knows what you are talking about.
He or She (the prospect) is informed about the product and after the proper introduction is read to make the purchase.
The final step is out of your hand, but you need to make sure how to properly craft the 1s two steps.
And that is what Brians teaches in the 4th lesson.
Lesson 5 – The 6-Figure Framework for Converting Leads
Here you are taught how to create a simple 2-page website.
This is also called a bridge page, where you take your prospect by the hand and bring him to the product, so to speak.
Besides that, you have access to Brian's
email follow-ups
scripts
funnels
and instruction video
However, in this lesson, you are advised to create a ClickFunnel account.
Clickfunnel
Be aware of the Clickfunnerl pricing.
The cheapest bundle costs a little over $97 per month ($80.84 if billed annually)
And the more expensive one is $297 per month ($247.50 is billed annually)
Inside lesson 5, you find the links to join Clickfunnel.
Just to let you know, it is part of his income.
In other words, he uses his affiliate links, so it is in his interest that students sign up for ClickFunnel.
In case you would like to learn more about ClickFunnel, check the video below:
Lesson 6 – Traffic and Omnipresence
The 6th lesson concern social networks and how you can leverage them to bring more traffic to your offers (the simple webpage you created in the previous lesson).
More specifically how to get traffic from:
TikTok
YouTube Shorts
Facebook reels
These media are currently the best sources get viral traffic.
I am glad that Brian shares this idea since it is still a kind of new technique how to get a lot of views with a little effort.
Not many courses teach how to leverage these media.
YouTube Shorts
I was experimenting with Youtube and created a Youtube channel about movies. to be more specific Movie Quizzes.
To be honest, the channel doesn't do well. but I was surprised by the reach of short videos, called Youtube shorts: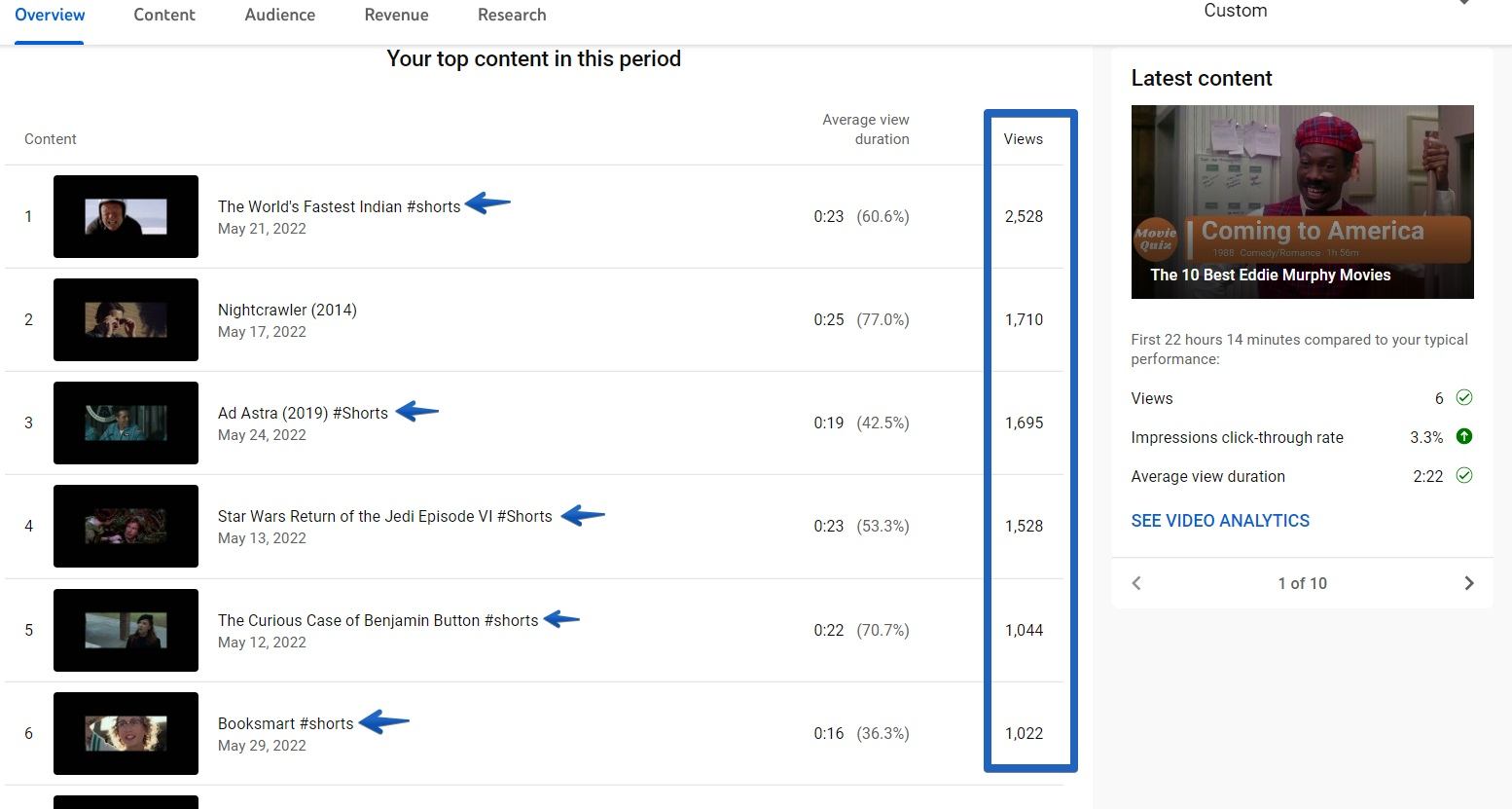 as you see, these are the videos with the most views (still it is low, but compared to the regular 10-minute videos, the shorts do very well).
So here is just a simple example, Youtube shorts are pushed much more than regular ones.
I have no doubt that the same is applicable to Facebook Reels.
Lesson 7 – Strategic with Social – Take What it Gives you
This is related to the previous one, where Brian talks about his favorite social media platforms.
He also describes the differences in the commonly used social media:
Youtube is a very good platform for a long-term
TikTok is great to start, but it might fade away eventually
Facebook Groups are great for building relationships and thus trust
Email is something that has been working for a long time and it doesn't go away
And in the following lessons, he is going to break up a bit the social media mentioned above.
Lesson 8 – Strategic with Social – YouTube
Youtube – is the most powerful media when it comes to the reach and attracting the right audience.
However it is not easy t start (not for everyone) and if you are like me, you find 100 reasons why to start with video creation tomorrow.
That's why it is great o have a mentor, in this case, Brian, that shows how to start producing content.
It doesn't have to be top-notch quality.
Just start and the more videos you make, the better you become.
Lesson 9 – Strategic with Social – Tiktok (How to Go Viral and Faster)
Similar to Youtube Shorts, Titkok has also the potential to get massive reach. And that applies to brand-new channels as well.
The drawback is that you need at least 1,000 followers on your personal channel in order to put a link.
Brian explains how to reach that amount of followers, and a lot of his students were able to get to that threshold.
Some of Brian's Tips concerning Tiktok:
Check other TikTok successful videos and model them
Use stories inside your videos
When someone asks questions, answer with a video
Basically, it is a simple 3 step process:
Use Hook – Ask questions like "Looking for a side hustle that pays well?
Story – Mention affiliate marketing, and how quickly you can start
Offer – Check my Youtube channel to get started
My personal opinion:
Take advantage of TikTok while it is still possible.
There are rumors going around that Tiktok is only a temporary thing. It might fade away like many other platforms…
But nothing is definite, so for time being it makes sense to get the most out of TikTok.
Lesson 10 – The Missing Link – What's Really Happening Here
Tell your story.
Tell people, what brought you to internet marketing.
Many people can relate to your story and that's the whole idea of this lesson. To connect with people.
I am sure you have the experience of meeting someone new in a different state or country. And after a couple of minutes of talking to each other, you found out that you come from the same area (or city).
That automatically triggers trust.
Analogically, the same principle is applied here.
It is nothing tricky about it. You just apply what real life offers you.
Lesson 11 – The Missing Link – How to Get People to Buy Your Thing
Once you created that rapport (in the previous lesson) it is easier to sell something.
And this is the lesson, where you are basically taught how to close the sale, so to speak.
Lesson 12 – The Missing Link – The 7 Habits of Highly Effective People
7 Habits of Highly Effective People – sounds familiar?
Well, it does to me.
I believe I have an audiobook somewhere on my desktop.
It is a book by Stephen R. Covey.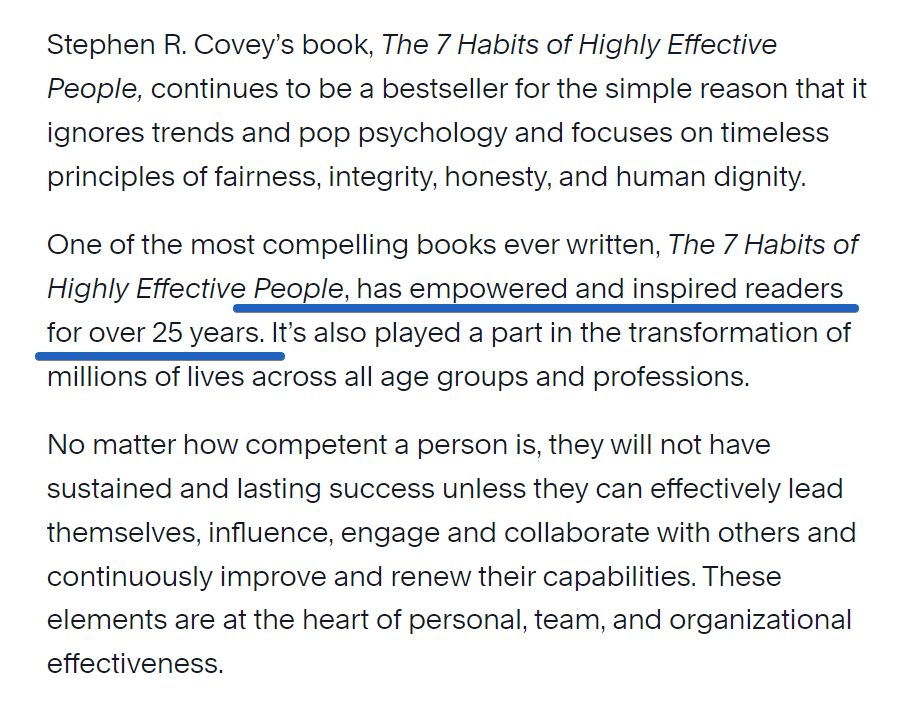 Brian claims that in order to be successful you need to think like a leader. Your task is to show your prospect that the process of shifting from one challenge to the next one is easy.
(Might not feel like it at the beginning, but at the end of the day, it is worth it).
Lesson 13 – The Missing Link – The Slight Edge and How to Get Everything You Desire
This lesson is also about how to motivate your self and Brian refers to another book called The Slight Edge, by Jeff Olson.
It is about how to turn "simple discipline into massive success and happiness".
A side note concerning Discipline:
One of the greatest videos regarding the disciplines is IMO the Be Dangerous But Disciplined – Jocko Willink & Jordan Peterson.
"JOCKO WILLINK is a decorated retired Navy SEAL officer, author of the #1 New York Times bestselling book Extreme Ownership:
How U.S. Navy SEALs Lead and Win, host of the top-rated Jocko Podcast.
He is co-founder of Echelon Front, where he is a leadership instructor, speaker, and executive coach"
Source: YouTube (Tedx Talks)
He explains that Discipline = Freedom.
Lesson 14 – The Missing Link – Overcoming Objections So You can Close More High Ticket Commissions
And regarding the last lesson, I am not sure whether this is a sales pitch or not… but you have a chance to buy a different program on affiliate marketing, called Legendary Marketer.
The price is $2,500…
Well, On the one hand, Brian gives a lot of value, which is good, but in the entire course, there are at least 2 products that he offers an affiliate.
Now you can form your own opinion about that.
But no doubt this is a thorough training showing you the trends that can get you traction pretty soon.
The question is, how much are you willing to pay for such a course?
How Much Does Affiliate Escape Plan 2.0 Cost?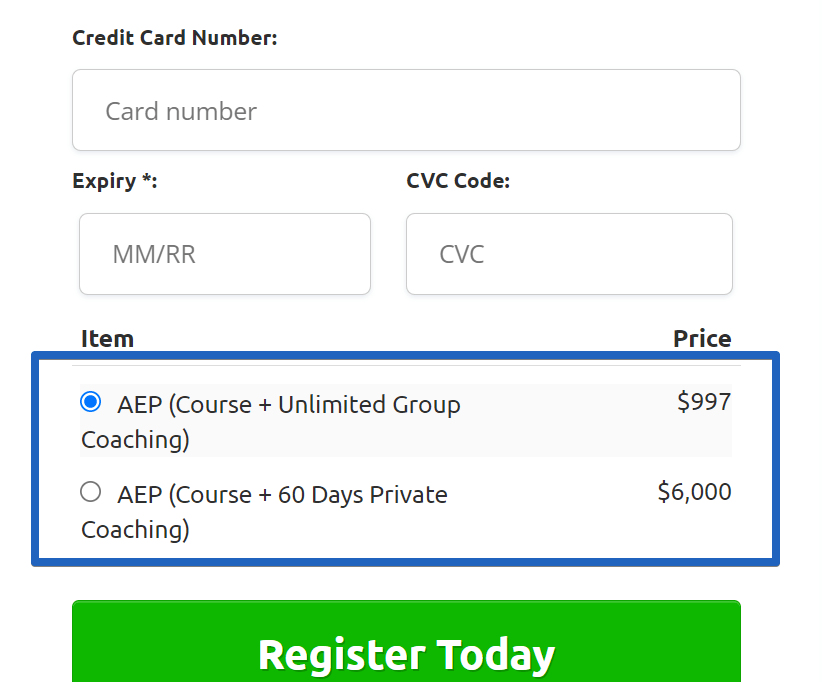 This is actually a bit expensive.
It falls into the category of high-ticket courses. Not always it is necessary to pay thousands of dollars for a course on affiliate marketing.
I admit it is not to find a good balance between the right price and the platform providing valuable info.
additional costs for tools
paying for traffic
Money-Back Guarantee?
No, unfortunately not.

It is a bit of a shame, but I believe it is possible to earn that investment back.
Can You Make Money With Affiliate Escape Plan 2.0?
Yes, you can.
But in my opinion, it won't be as easy as you may think.
Especially when you are a beginner.
remember, that is explained in the 90-minute challenge as well – it is called Uninformed Optimism.
and even with the training, you need to hustle and go through challenges. That is just the nature of any business.
But of course, it is possible to start making money with Affiliate Escape Plan 2.0. Maybe you won't make any money within the first 2 weeks, or even a month.
But as you keep on hustling and creating different content, you will eventually be able to sell this course.
And the commissions are great.
You can make more than $300 per sale.
The great part is that this business model is scalable, so you just need to do the same over and over again.
Regardless of how exciting the 1st might be, you just need to continue working.
Pros of Affiliate Escape Plan 2.0

Legit Owner and experienced coach
Brian keeps updating the course
Good quality training on Affiliate marketing
Students can learn how to promote high-ticket digital products so they get paid a big commission
Cons of Affiliate Escape Plan 2.0
Focused on self-promotion
Additional costs needed (ClickFunnels)
No Money-Back Guarantee
Is Affiliate Escape Plan 2.0 Legit?
Affiliate Escape Plan 2.0 is definitely a legit course.
Brian Brewer the owner of the course has years of experience in Affiliate Marketing and he understands that providing value first is a Must.
That's why he created the 90-minute challenge where he introduces the core training. Every person that goes through this free pre-course is informed about what to expect.
It is important that he doesn't sugarcoat it or promise you high returns in a short period of time.
In fact, it is not a get-rich-quick scheme and Brian wants everyone to understand this.
Price-wise it might be expensive for some, but in theory, you can get the money "back" within a few months (even earlier, if you have some experience).
Unfortunately, there is no money-back guarantee… Maybe Brian feels confident that anyone can make these $900 bucks back… in theory, it can be done with 2 or 3 sales.
I am personally aware of cheaper training on affiliate marketing that teaches how to become one, within any niche. It also has a free trial (the first 10 lessons are free).
How about you?
I am curious, would you pay $900 for Affiliate Escape Plan 2.0?
There are many other courses in different niches that cost thousands of dollars so at the end of the day it is not that expensive.
But I would like you to know what are your thoughts on the price.
Please feel free to leave a comment below.
I respond to every single comment, most likely within 24 hours.
Thank You For Reading,
Mike