Hello and welcome to the 1k Daily System Review.
This system claims that if you purchase it, you can start making thousands of dollars (daily).
Is this something that is realistic, or is it just hype?
The thing is that there are many digital products, just like the 1K Daily System promising you making a lot of money.
Then it is up to us (I mean you and me) to do a bit of research and check whether such claims are true or false.
I am glad you do your research since it is the best way how to stay out of scams.
Regarding the 1K Daily System, I am not going to bother you with details so this is going to be a short review.
The point is that we don't have to elaborate too much on this one since it will be pretty obvious what is the 1K Daily System all about.
Disclaimer
Please note, I am not a member or an affiliate for 1k Daily System. This review is based on research and information available online in the public domain.
Any recommendation and conclusions are only opinions and may not apply to all persons or situations.
1k Daily System Quick Overview
Name: 1k Daily System
Website: www.1kdailysystem.net
Price to Join: $22
Recommended: No
The 1K Daily System appears to promise effortless earnings without requiring any prior experience.
Reportedly, it generates a sales page on your behalf that attracts free traffic, enabling you to earn commissions from the products you promote.
They assert that you can begin earning within a mere 24 hours, which, in reality, is highly implausible.
The entity behind this system aims to convince you that you won't incur expenses for traffic while simultaneously urging you to invest in paid traffic, specifically solo ads.
Numerous warning signs emerge from this system; thus, I advise against becoming part of it.
For those interested in understanding how to construct a straightforward website that garners organic (free) traffic, I encourage you to explore the method I employ.
I've gained insight into SEO, grasped the concept of achieving favorable Google rankings, and eventually learned how to capitalize on the traffic.
What is 1k Daily System?
1K Daily System is supposed to be a program that can generate hundreds and even thousands of dollars for you.
You are told that you don't have to do a lot of work, the important thing is to purchase this product.
How is it possible?
Apparently, this is a "done-for-you" high commission system.
In other words, they will create a webpage for you that will drive traffic. People coming to this page will then purchase products that you promote and you earn a commission.
That is affiliate marketing and it is one of the best ways how to start making money online.
1K Daily System specifically focuses on "high-ticket" programs that pay hundreds of dollars commission.
(High ticket programs cost $1,000 or more to join and here are two examples Super Affiliate System or Commission Hero).
It is true that if someone purchases such a product via your affiliate link your commission is 40% to 70%, depending on the program.
But having some sort of "sales-page" that will automatically drive traffic and you just collect the commission – this is not possible.
In theory, it might work, but it is important to gain some experience (or to learn certain skills regarding affiliate marketing) when one wants to make a consistent income with affiliate marketing.
But they want you to believe that with the 1K Daily System your page will generate money and you don't need:
to do any blogging,
to create any content
to build an email list
to pay for the traffic (PPC or Pay-per-Click)
At first, I thought I would give a chance to this product, but once I heard the guy in the video saying that it "drives 100% free traffic on complete autopilot", I already lost my interest and right then and there I knew that this is just a hype.
There are a lot of products like these and they have pretty similar patterns.
It would be a good idea to check some of the red flags (that are quite common throughout such products) so in the future, you won't get scammed so easily.
First of all, let's check who runs this system.
Who is the Founder of 1k Daily System?
The guy behind the 1K Daily System is an individual named Glynn Kosky.
It is not obvious how he looks like or whether he is a real person.
As a rule of thumb, when there is no straight information on any website about who is behind, my advice is to pay more attention; You might deal with a scam (or at least a very misleading product).
Who Is the 1k Daily System For?
This system is for people who want to become online marketer and looking for a fast and easy solution. It is beginners friendly, so you don't need any technical skills.
Since this is a "done-for-you-system" all you have to do is sit back and collect the commissions.
If you believe that this can really generate consistent income, then please contact me in the comment section at the bottom of the post.
You and I, we must talk.
So, OK.
Enough of that and here is a real thing.
First of all, there is no such thing as a push-button system or some kind of page that drives free traffic, without effort.
The entire 1K Daily System is just a hype that already dies out.
People already find out that this system will get you nowhere.
Below, in the Red Flags section, you see a screenshot of their site (domain) authority.
How does 1k Daily System work?
This Glynn guy says that there are these 3 following steps that you need to take to start making money.
1) Grab your copy of 1K Daily System
And you should hurry up since the price increases every day.
Well, this is just a tactic – fake scarcity.
The product has been around since September 2020, and the price is still the same.
2) Login and enter your affiliate link
Configure basic settings and add your affiliate links.
3) Use the built-in traffic, sit back and watch the sales roll in
So he says that you won't pay for the traffic but at the same time you need to buy solo ads?
First of all, solo ads do not work.
The bottom line is that you are going to promote ClickBank products using SoloAds.
Now you can do it without even using the 1K Daily System.
I mean going to Clickbank marketplace and pick a product is for free.
ClickBank is a legit marketplace but there are several issues with their products.
How much does 1k Daily System cost?
According to the introduction video, a system like this is worth o thousands of dollars.
But they use the "cheap marketing" tactic, saying that you are lucky and you can get it for about $20.
And they removed the monthly fee completely.
Waw – what an awesome deal.
I don't mean to be sarcastic but when it comes to such scammy products, I can't help myself.
1k Daily System Red Flags
Let's check some red flags.
The thing is that to me, If I see only one such red flag I immediately doubt the product and let others know, to be aware of it.
1) Unknown Founder
We don't know who runs this system or who the creator is.
This is always a red flag and whenever you see a website promising you to make a lot of money check who is behind the system.
In case you can't find any real person or company, you most likely deal with scams.
Be aware.
2) Fake Disclaimer
The following disclaimer is at their page, but the truth is that is it taken from a different website.
Even the dates don't match.
By now we know that 1k Daily System was registered in 2020:
So the 1K Daily System site couldn't have been updated in 2019.
3) No Contact information (no support)
There is no contact page or email address on their website where one can ask for support.
As we have mentioned the traffic to their website decreased rapidly over the last few months.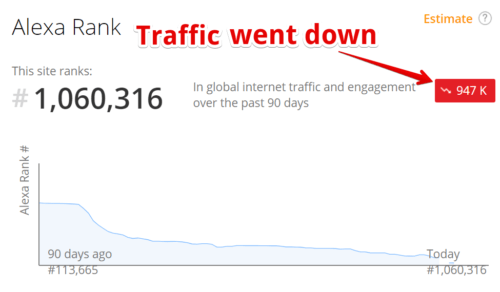 Considering that this is still a new system (less than a year old, as of this writing) this shows that people already lose interest in the 1K daily system.
If this would have been such a great deal, people would be still interested in this offer.
5) Money-Back Guarantee – 180 days or 30 days?
It claims that you have 180 days to ask for a refund.
The truth is that it is only 30 days.
It is a warrior plus product and therefore this policy is master.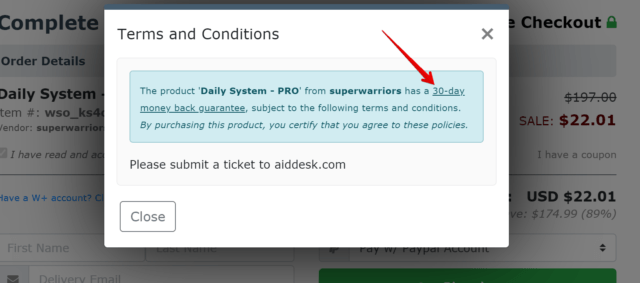 There are more red flags, but I believe these ones are enough to convince anyone that the 1K Daily System is not going to work.
What I like about 1k Daily System

There is nothing I can like about the 1K Daily System
What I don't like 1k Daily System
Owner, most likely fake (there is no information about this person that make us believe he is a real person)
No contact page – no email (no support)
False information about the money-back guarantee (it is not 180 days but just 30)
Conclusion
Is 1K Daily System a scam?
Well, it is.
All the information in their sales video – that's all just hype.
We have gone through enough red flags, to make a final conclusion that it is a scam.
Do you want to find out what it takes to make money with affiliate marketing?
As I said this is a legit (and actually quite easy) way how to generate income online.
However it requires effort and time, so if you are just looking for a quick solution to how to make fast money, I can't help you.
Otherwise, you are welcome to test out a method that I use.
If you have questions or concerns, let me know in the comment section below.
Thank you for reading
Mike