Hello and welcome to the 1 Page Profits Review.
You are probably doing some research on this product called 1 Page Profits.
This is not a brand-new product and it has been around for about a year, from the end of April 2020.
So it is a good time to evaluate, whether this is something that can help you to make money or it is better to check something else.
In the following review, you are going to learn what this system is all about.
Let's get started.
Disclaimer
Please note, that I am not a member or an affiliate of 1 Page Profits. This review is based on research and information available online in the public domain.
Any recommendations and conclusions are only opinions and may not apply to all persons or situations.
Quick Overview
Name: 1 Page Profits
Website: www.1pageprofitz.com/1-page-profits37941142
Price to Join: $13.11 (+Upsells)
Recommended: Not really
1 Page Profits Overview
1 Page Profits is a done-for-you system that promises you pre-built pages and unlimited traffic.
Using Affiliate marketing you can earn hundreds of dollars a day.
The problem with this system is that it doesn't work in real life and there are several reasons for that.
There is no such thing as unlimited traffic.
Nobody will click on the offers that are built within the 1 Page Profits (probably some bots only).
Affiliate marketing is a perfect business model, but it doesn't work as explained on the 1 Page Profits page.
All the claims about earnings and traffic are hyped up.
It takes more effort to make money online, otherwise, we all would be rich by next weekend.
Here is a realistic method of how to actually generate revenue online:
What is the 1 Page Profits?
1 Page Profits is a done-for-you system with already-built pages. They claim that it is possible to make a $300 commission with their system, and it is perfect for beginners.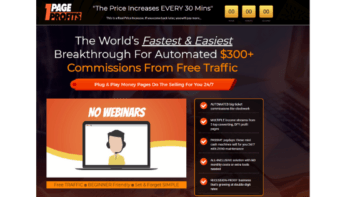 Basically here is how it should work:
You send offers to people and if they purchase the product (or service) you get a commission.
This is in principle how Affiliate Marketing works, and it is a perfect business model.
Apparently, people (or a person) behind the 1 Page Profits know how to drive free traffic to your specific page and you don't need to do anything.
Wow, this seems to be an awesome system.
Imagine that you can make a couple of hundred you don't need to:
Making videos
Building lists
Blogging
Creating content
Building email list
…anything
Sounds tempting
Or is it just hyped up?
If you are already skeptical about 1 Page Profits, great.
I believe you already have a bit of experience with internet marketing.
Does it mean that this is a scam?
No, it is not, and in theory, this might work.
Let's dig a bit further.
Who is the Founder of 1 Page Profits?
The creator of this course is a guy named Brendan Mace.
There isn't a lot of information about his individual but one thing is for sure.
He is a serial product creator and keeps coming out with new products every other Sunday.
Well, maybe not so fast, but it is never a good sign when somebody keeps creating new products. Or just rehash them.
Does it mean that the previous one doesn't work for the people who bought it?
Yes, this is one of the main reasons why people like Brendan keep doing it.
1 Page Profits is a WarriosPlus product launched in April 2020.
Even the website was registered at that time, so no issues there.
(The thing is that there are many scams claiming that have been around for years, but in fact, they operate only for a few months).
Who is 1 Page Profits for?
As you may have seen, this is supposed to be for beginners.
I remember when I started with internet marketing, I was sure that had some way how to make thousands of dollars.
For people like me, this product really seemed amazing – but at the same time, I was a bit skeptical.
Can I really drive traffic for $13 bucks?
Is it really so easy?
It took me a while until I realize that making some bucks online requires effort (and time).
In other words, there are no loopholes, or automated systems generating free traffic. s
So whenever you see somebody claiming that you can make $300 in a day, be careful about the system.
Keep in mind that there is not such a thing as something for nothing (Napoleon Hill).
No need to have any experience – well of course
Since every person that has already tried to learn something about internet marketing might fall for this scheme.
And don't get me wrong.
It is absolutely normal. Internet marketing was a new thing for us, (at one time).
How does the 1 Page Profits work?
According to the sales page, it takes only 2 steps:
Paste your affiliate link
Plugin the Free Traffic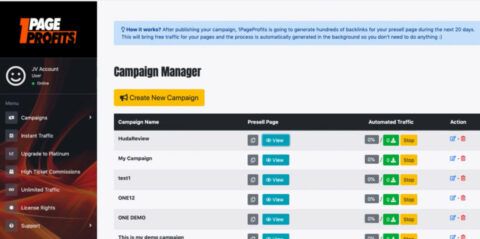 In the members' area you see a menu where you can go and create and send the offers.
I don't want to bother you with the details, since nothing that this system offers is needed.
You are basically going to send offers that are available on Clickbank.
And if you are not familiar with CB, you can go ahead and read about how to make money with CB
There is no need to go on and purchase the membership within 1 Page Profits.
Save a couple of bucks.
Also, members of 1 Page Profits do not have any control over the links that are generated here.
This is a big disadvantage.
It may sound awesome, to have a done-for-you system that sends offers but at the same time it has the following disadvantages:
All members use the same landing pages
All members offer the same type of products (there are maybe dozens of preselected products)
You don't have control over the page, meaning if their system goes down, yu are left with nothing.
That's why the best way how to start making money online is to have your own website.
And don't worry. It can be done within a few minutes.
At the bottom of this post, there is a link where one can get more information.
The bottom line is, there is no need to bother with the 1 Page Profits.
And how about the promised traffic?
You have the option to share your campaigns with all major social sites.
What do I need this 1 Page Profits system for?
What would stop me from creating my offer and sharing the link on the FB page?
Please note that in order to have some sales you need to have a lot of followers that are interested in affiliate marketing or at least in the Clickbank digital products.
What is the Price of 1 Page Profits?
At the time of launching the 1 Page Profits, the price was $12.95.
They use a "scare tactic" saying that the price goes up every day.
Since the launch of 1 Page Profits, the price went up by a few bucks.
As we see the current price is $13.11
You probably realize that one can't expect a lot from such a product.
You get what you pay for.
…and anyone who thinks that he can start generating revenue with a system that costs $13, would get in touch with me.
(Please use the comment section below).
The truth is that the price is not the final one.
Does it mean that there is something more?
Let's briefly take a look at the upsells
Here is the list of all the upsells, so you get an idea about what the real price is.
Please note that if you pay more, it does not mean that you actually will get more value.
Let's have a look:
OTO1 – $37
Platinum Edition. It is software that removes the restrictions.
OTO2 – $197
These are DFY Funnels and DFY high ticket commissions.
OTO3 – $67
Recurring software, DFY Landing pages, and Passive income.
OTO4 – $197
Unlimited traffic.
Let me stop here for a second.
What does it even mean by "unlimited traffic"?
A thousand visitors per day?
A million?
Maybe even more?
The fact is If I can pay $200 and get "unlimited traffic", believe me – I wouldn't have to create any content.
This Unlimited Traffic stuff is just BS.
OTO5 – $167
You can buy resell rights, so you can sell this course and keep the 100% commission.
To sum it up, this poor training (or software) might cost you $665.
Unfortunately, this would be wasted money, as we know that you don't really need this in order to promote ClickBank products.
What I like about 1 Page Profits

Nothing particular. Since it is a Warrior Plus product it has a 30-day money-back guarantee.
What I don't like about the 1 Page's Profits
No need to pay for this product (ClickBank offers can be promoted without this 1 Page Profit)
Very misleading Sales Page
No control over the traffic
1 Page Profits Conclusion
Is 1 Page Profits a Scam?
Probably not, it depends on what you call an online scam.
But for sure this is not going to help you with your sales at all.
To put it simply – this is a useless system.
The best way to have your own business online is to understand it from scratch.
And there are actually some skills needed – the question is where do you acquire them?
I was looking for a real educational platform for years, but couldn't find any.
I went through hundreds of products just like the 1 Page Profits … but you know once you are determined to find something you eventually will.
If anyone is interested in how to build an online business, is willing to work, and has a few hours per day, down below is a link with more detailed information.
Do you have questions regarding the 1 Page Profits?
Or in case you are interested in building your own business, please let me know in the comment section below.
I will be happy to provide you with feedback, within 24 hours.
Thank you for reading
Mike
How To Make Money Online?
Do you really want to learn how to make money online?
First of all please realize that there is no such thing as a push-button system that generates money on autopilot.
Choose a specific business model that works.
One of the simplest ways how to start making money online is to become an affiliate marketer.
You just need to learn how to create a website about a specific topic and inform your readers about the product or service.
When they purchase the product or service using your affiliate link, you get a commission.
There is no limit to how much you can make.
Of course, the beginnings might be difficult but with proper education, it is possible to start making 4 figures a month within a year.